Goodbye 2020, you've taught us a lot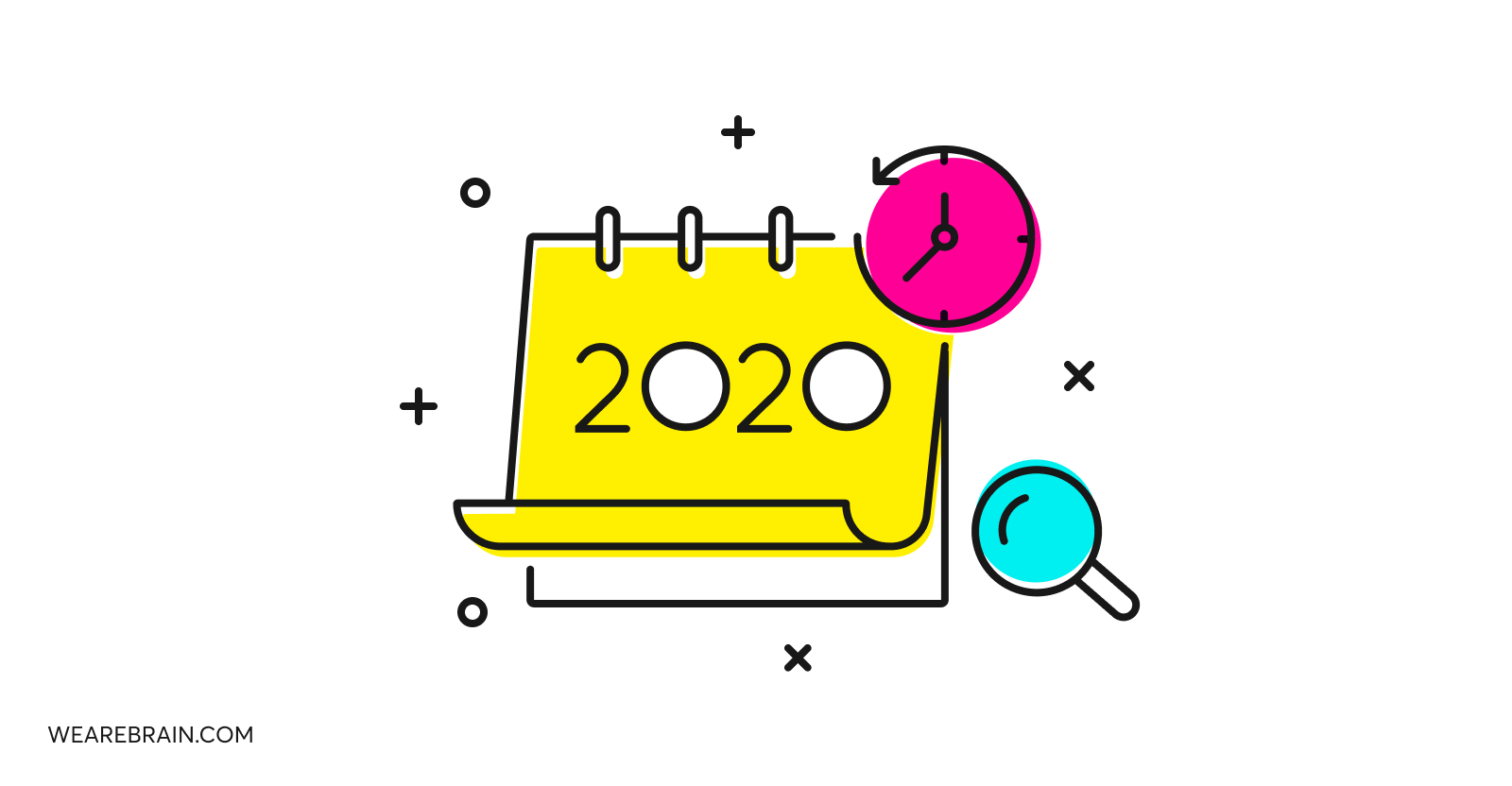 Much like the coveted vision the number 2020 is usually associated with, this year has helped us see more clearly. We've been alerted to cracks in global systems and the fragility of life. It's been a hard year and it's been a sad year, there is no way around it. Many people lost their livelihoods and many even lost their lives. The sobering truth is, that while there seems to be a light at the end of the tunnel, as the medical fraternity works tirelessly to limit the spread of a virus that has shut the world down entirely and not just once, 2021 is probably going to be a tough year too. Once we have the virus in hand we will need to begin to deal with the social and economic fallout of 2020.
It's because we know we're in for a little more darkness going into the future that we wanted to reflect on the truly positive things that happened for us at WeAreBrain in 2020!
In German, we have this saying… mehr Glück als Verstand, which loosely translates to more luck than understanding. 2020 has felt a little like this for us. We have worked hard and done everything we could to keep our doors open and we feel lucky that our work paid off. Why lucky? We've seen friends and fellow entrepreneurs work just as hard as us, but due to circumstances out of their control, they were not as lucky as we have been. To put it into perspective…
One week into the first lockdown, we had already lost 30% of our business. However, this was also when others saw their revenue evaporate by 80, 90 and sometimes even 100%. Approaching the end of the year, we have somehow managed to crawl back from that initial punch in the face and beat our own 2019 revenue record by almost 10%.
Against all odds (and maybe against any common commercial sense) we decided early on to stick to our guns and continue to stay true to our values and mission. We have always believed that our business has been a success because of the people who work with us on a daily basis.
People before profit
Forgoing any short term profits and tapping into the little reserves we had as a small business, we decided against forced lay-offs and salary cuts and doubled down on our initiatives to hire new talent – welcoming 10 new Brainiacs this year – and keeping our existing team and client base intact, focused and healthy.
Also, we decided early on to not take any government support since we firmly believe that a. other sectors and industries needed this money more than us and b. situations like these are part of the inherent risk we take as entrepreneurs starting and running our own company.
Creativity and ownership
Instead, we focused our efforts on supporting our existing business partners as much as humanly possible and advanced our plans to create and launch new digital service offerings into the market. We have some exciting things happening in January, specifically in the design space but before we welcome in anything new we want to take our hats off to the incredible creativity and ownership we have seen coming from our team. Everyone has had to hustle a little harder this year and we're proud to see so many people rise to the challenge
Kudos to all you die-hard entrepreneurs out there
We would like to personally highlight some of the incredible entrepreneurs we worked with this year. New or existing partners but all of them represent individuals with a relentless passion for their trade and willingness to build their own destiny regardless of the challenges and roadblocks they might encounter in a year such as 2020.
clevergig
2020 was a big year for the gig economy and with permanent employment in short supply, clevergig and companies like it have become an integral cog in the wheel of the global economy. Knowing this, it was very important for us and them to ensure that we improved on their capacity to serve those industries that needed to fill shifts and get work done. In the process, they have grown their team and their business throughout the year and have recently passed the magic number of 500.000 shifts filled. Well done to the clevergig team.
TheOptimal.me
Liz did a phenomenal job of growing her fitness and wellness product for over 40s and 50s, as well as launching TheOptimal.me platform in the US despite travel restrictions and an altogether crazy election period in November. The uniqueness of the Integrated Movement Routines (IMRs) truly sets the programme apart. Meet Liz.
ishipit
To Jurgen, well done for your insight and being right on the pulse when it came to launching your venture with a tech-enabled logistics solution for local e-commerce deliveries. You're an absolute star! It was a niche that needed to be filled.
Annacare
Then, what do you do if you're a full time working mom running a successful vineyard in Sicily? You launch an incredible new natural cosmetics line all the while running your existing business and homeschooling your 7-year-old, of course! Anne-Louise, never let anyone tell you that you've got too much on your plate.
My Tiny Stars
Launching a business internationally that is already successful in one market is exactly what Julie from My Tiny Stars did this year. Expanding from France with a new brand and webstore which caters to babies and toddlers from 0-3. You can also read more about our journey with Julie and My Tiny Stars here. 
PTProCover by MyRiskDesk
An amazing entrepreneur and just like clevergig co-founder Michel Pilet, MRD CEO Jock is playing the long game. We are super proud to be his partner and friend.
Beautiful News
If you're in need of a bit of good news these days (and let's be honest, who isn't), make sure to tune into Beautiful News every day at 4:14 pm. This has been a collaboration with the fine people of Ginkgo Agency who had tasked us with launching their new platform just before the world went into the first lockdown… talk about timing.
What about our team?
If you know WeAreBrain, then you know our team always comes first. Personally, I'll forever be grateful to them. During this year their energy, passion and commitment have been our main source of inspiration and a big driver for us as founders, which in turn helped us all keep going this year.
Having battled through the last twelve months together wouldn't have been possible without our team's dedication, professionalism and love for this business.
At times, I lie awake at night worrying about their well being, my own health and what the next year will bring. But I feel comforted by the thought that together we will always help, support and look out for each other. Our unity that is unstoppable, whatever the journey ahead may look like.
So welcome 2021
Quite frankly we don't know how 2021 will pan out and what this new year has in store for us. But we wouldn't be who we are if we would just let a crisis go to waste. We'll continue to further our agency group ambitions with the launch of 4 new labels in 2021.
And we'll be starting the year with a bang when our brand new book Working Machines hits the virtual bookshelves in January. What can I say, when the chips are down our incredible team doubles down and creates great things.
Last but certainly not least, we were blessed to enter into new client partnerships with some awesome organisations such as InHolland, TIP Europe and ICCA, the Commercial Court of Arbitration who were willing to choose us over virtual RPFs and Zoom calls. We would like to thank you for that trust and I am sure we'll do amazing things together in the new year.
In closing
I encourage you all to take this festive season and cherish your loved ones. If 2020 has taught us nothing else, time on this Earth is limited and we need to tell everyone we care about how much they mean to us every day. Until January we wish you all joy, kindness and happiness.
Mario Grunitz