Liz Grantham, founder of TheOptimal.me, talks about the motivations behind the business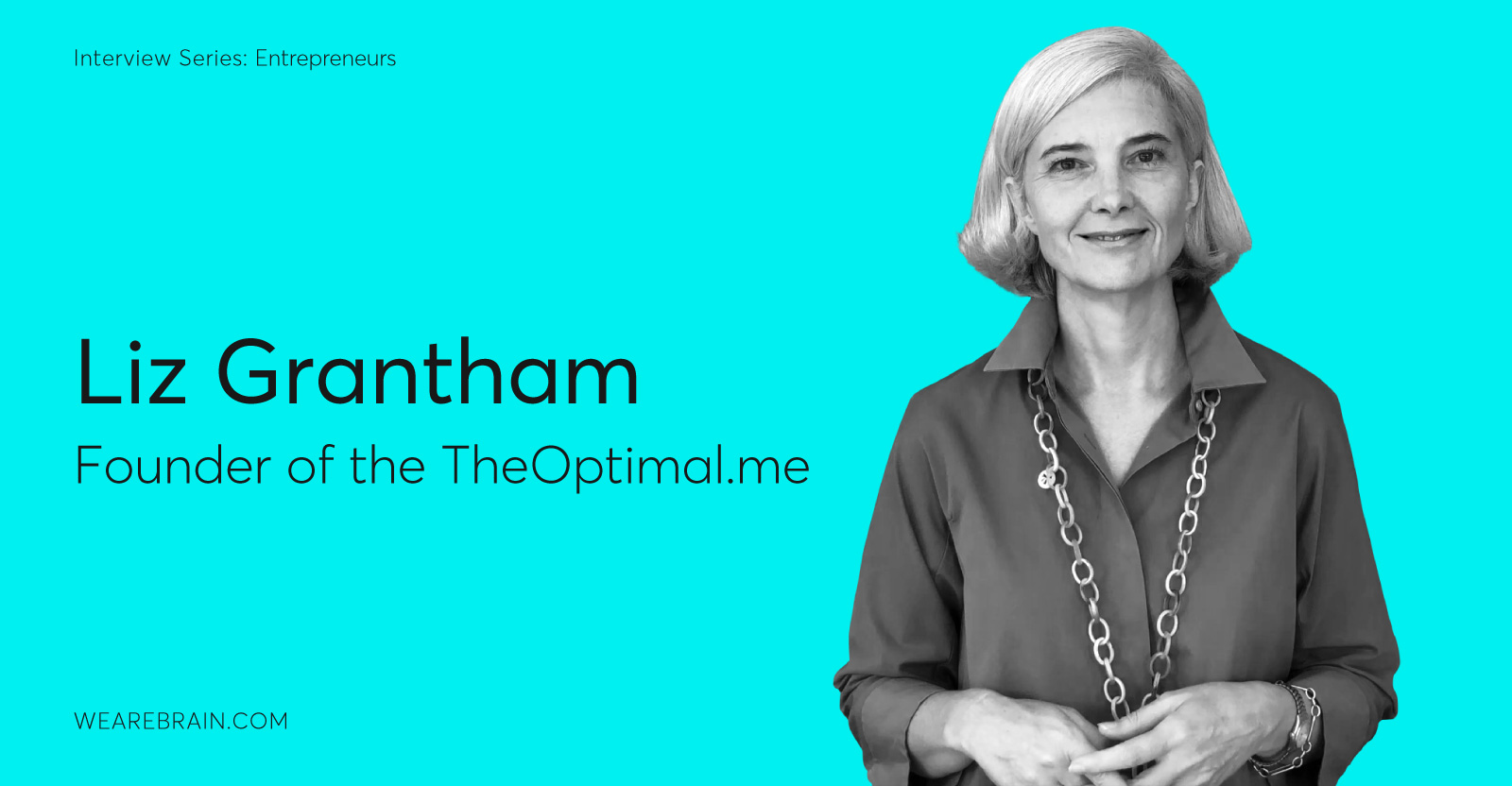 Liz has over 30 years of experience in marketing and advertising providing innovative, integrated thoughtful solutions for global clients like Visa, Shell and Sony Mobile, working on various projects including the Olympic Games.
Her love of a challenge and making big things happen, together with the stress that comes with running a business, and being a present and mindful mother led her on the journey to what has become TheOptimal.me.
TheOptimal.me is a digital solution developed especially for mid-lifers who want to take control of how they age; to feel 10 years younger, stay active, avoid injury and experience less pain.
We had the opportunity to ask Liz a few questions about the motivations behind TheOptimal.me and how her 30 years of experience helped shape the development of the business. Here's what she had to say.
Q: Can you tell us a bit about your background and the various ventures that you've been involved in?
I started my career in fashion: it was very short-lived as I worked briefly as a designer before deciding it wasn't for me. Fashion was followed by another short stint in cosmetics, working for Estée Lauder. I then got employed part-time as a Personal Assistant in an advertising and marketing agency. I was 21 at the time, and that was the start of a 30+ year career in marketing. I really loved working in advertising and marketing, specifically on experiential and large projects. I had the privilege and joy of organising a national talent search competition in South Africa (long before The Voice!) and fell in love with the entertainment side of our business.
In 1998 I started my own agency. We service global brands across geographies. We've handled many big projects for big properties – like The Olympic Games, FIFA and the Rugby World Cup. I have been lucky to conceptualise and implement many innovative campaigns, and a highlight was definitely Visa's host market campaign for the 2010 FIFA World Cup in South Africa.
Q: How did the idea for TheOptimal.me start? And when was it?
Through my work in advertising, I got very involved in music and television, and became a partner in a content business. We are the biggest independent aggregators of music and entertainment content in Africa. I saw the power of the reach of digital; creating content that people wanted or needed, combined with an incredible ability to scale. That was what really got me thinking about starting something digital.
The idea for TheOptimal.me came about through my personal journey. Working in advertising and running an agency, my life has always been about deadlines, lots of stress, and way too much time behind my desk. I personally don't like exercise and fitness – you will not find me in a gym or running! My stress levels were way too high and I was not feeling well. I was advised to get my health under control, and exercise was one of the non-negotiable solutions.
I was introduced to Jannie Claassen, who takes a totally different approach to exercise that focuses on integrated movement. Eventually, I plucked up the courage to go to a class and it was life changing. I started feeling so much better, I was looking better, I had more energy, felt more balanced, and people were asking me about it. A few months later I travelled to Barcelona for a conference and after the long flight, all I wanted was to do one of Jannie's workouts. I wished I had him in my pocket. That was my a-ha! moment for TheOptimal.me.
Q: What inspired you to get involved in wellness for an older demographic?
My journey to optimal health and wellness led me to understanding and learning about our physiology, our bodies, what starts happening to us in our 40s and 50s. I was lucky enough to have people around me that are really passionate about health and wellness and finding a balance between body and mind, the physical and the emotional, treating the why, rather than the what. I was really inspired and wanted to share what I'd learnt.
Q: What would you say is your competitive advantage and why can't it be copied?
We certainly have competitors in terms of exercise platforms targeting people who are in mid-life and beyond, but they really break down in two different groups. One is about looking strong and beautiful: they focus on shaping the body and target the younger segment of the audience. The other is about reaching seniors. Often, those programmes seem to be targeting a much older age group, for example presenting exercises sitting on a chair. When you look at 60 year olds today, many would definitely not see themselves in the "senior" bracket.
Where TheOptimal.me is unique is in our approach to fitness and wellness. It is not only about the physical aspect of movement, it is also about how moving our body has an impact on our cognitive ability. When you move in a way that is natural, the way we are meant to move, you have a completely different impact on your body's chemistry and physiology. Jannie Claassen, who is at the core of our programme, has developed what we call Integrated Movement Routines (IMRs), which take a unique approach.
We have been purposeful in making sure all our content and tone of voice is familiar to our audience, that our user experience takes that into account. We've gone so far as to compose our own workout music to enhance the experience.
Of course, over time there might be some direct competition but I think our overall approach to health and fitness makes us quite different to others. We also offer nutritional advice and address topics that are very relatable to people who are in mid-life.
Q: How many people did you start with? How many do you have in your team now?
We have a very tiny core team working full-time on TheOptimal.me. Because the tech space is not my core experience, we have to make sure that we work with people who are specialists in these fields. Our own agency has gone through many changes in the past years, and what I've learned along the way is to hire experts in a specific field who can come in and out as opposed to hiring someone full-time. This ensures that we can have the very best people on projects as and when needed.
Currently, some of our team is based in Mauritius, WeAreBrain powers our technology from Amsterdam and Kiev, we've got marketing people in the US, Jannie lives in Thailand, and our physiotherapist is in Australia. That is really the joy of this project: we're able to work with people across the globe who are able to bring their best experience to help us grow.
We've got massive aspirations regarding where we want to go in the next 12-24 months, so I think we'll increase our core team but potentially still stick to a model where we have the flexibility to manage our budgets and make sure that no matter what it is that we want to do, we can still access the very best people that can bring these ideas to life.
Q: What things took you by surprise throughout the process of bringing your business to life? What mistakes did you make?
So many! And I'm sure there will be a lot more to come. The one thing that is a common mistake, I believe, has to do with terminology. Language and the use of words is crucial: it sounds really simple but it is the key to output; working with a global team brings a whole lot of nuances to the process that can sometimes create inefficiencies.
I've learned that finding people to work with that you can really trust is not easy. There are a lot of people out there who have extraordinary experience in the corporate world. As an entrepreneur, you sometimes feel a little intimidated by big brands on CVs and think that those people have been exposed to the very best because of their position. But in reality, they tend to know less because they have colleagues in their team who worry about the details.
Entrepreneurs and people in small businesses often have a much broader scope and understanding of what is required to take a project forward with limited resources and time. You can't just chalk it up as a failed experiment if things go wrong, the implications are much bigger. The need to be able to fix mistakes and pivot quickly tends to be more common in a smaller business.
Q: Have you participated in any funding and investment programmes? If yes, which? And how would you recommend going this route to other entrepreneurs?
Luckily, I have had good clients so have never needed funding. With TheOptimal.me, we started building the very first kernel of this idea in July 2018 and we've progressed slowly because it is self-funded. I've always taken the view that until it is ready, I don't want to give too much away. We will now go to market in search of funding because we have a big, exciting roadmap that we want to deliver. COVID-19 has really amplified technology adoption within our audience, which was often a barrier, so we now want to move fast and hard. Finding the right investor and funding is going to be a new experience for me but I have people around me who have experience in this space, so I am quite excited.
Q: What is your vision for TheOptimal.me in the future?
We have big dreams and plans. Firstly, we need to build brand awareness of TheOptimal.me so people in mid-life know that we are a fantastic resource for them; the information we provide is well-researched, informative and trustworthy and is going to help them live a healthy life. We've got all kinds of add-ons planned for our platform: content and courses that we want to develop, and we want to get into the online retail space. Post-COVID, we want to explore events and get-aways for people in the same age group who share common interests, etc. There is so much we'd like to do!
Who knows what will happen next? There are many spaces where we could add value to a lot of brands who want to talk to our audience. We also have a responsibility in our world today to provide content and programmes that really help people, rather than just being commercial. When you do something that has heart at its centre, it sets you up with an advantage to succeed because your customers will get a real benefit from what you do.
Q: How do you feel the current pandemic influenced the TheOptimal.me venture and the broader fitness and wellness industry in the short- and long-term?
Everyone was taken by surprise. No one expected to have our world turned upside down. Very quickly, it pushed owners of gyms and fitness centres to find digital solutions to remain afloat. The pandemic has forced people to embrace technology.
People have also become more aware of their health and how they have to go back to basics to look after themselves. That is really at the heart of our programme: looking for solutions that are long-term and long-lasting, as opposed to quick fixes. COVID-19 has amplified some of these issues and it is setting us up for the years to come, as our audience will also be reluctant to go into enclosed spaces with many others.
From a business perspective, it has really magnified the possibilities of working across geographies, time zones, and from home. This is a wonderful, freeing notion that you can really build a team without them sitting in the same room.
Q: What is the one piece of advice you'd give to other budding entrepreneurs?
My first piece of advice is this: don't start anything that you're not passionate about. Building something new requires extraordinary grit. You go on a rollercoaster experiencing the highs of starting something new followed by the lows of the first set of problems. You're going to face roadblocks you never anticipated. If you're not passionate or don't absolutely believe in what you're doing, the reality is that you'll probably give up. Decisions have to be made, you have to hold the line, and it can be a very lonely place. So passion and grit are for me the two things that are key for an entrepreneur.
I also learned many years ago that cash-flow is key. It doesn't matter how good your idea is if you don't have the cash to support it. Understanding cash-flow yourself and not having an accountant tell you is important, make sure you understand where and how you're spending your money and how long it needs to last. This is something about my business that I will never hand over to anyone else.
Finally, really try hard to surround yourself with people that you can trust and that you can have very honest, critical, and constructive engagements with, without being emotional. People that will help you build the best product that you possibly can who provide the very best solutions are important. These people are rare, but if you do find them you're on your way to something good.
---
We want to thank Liz for her time and her informative insights into what it takes to transform a good idea into a growing business. Liz's tireless work building TheOptimal.me is proof that an entrepreneurial spirit matched with a good idea is a powerful combination. WeAreBrain are proud to power the digital component of TheOptimal.me brand and we look forward to helping the business continue to grow.
Paula Ferrai