The role of writing in UX and UI
Contributor
Anastasia Gritsenko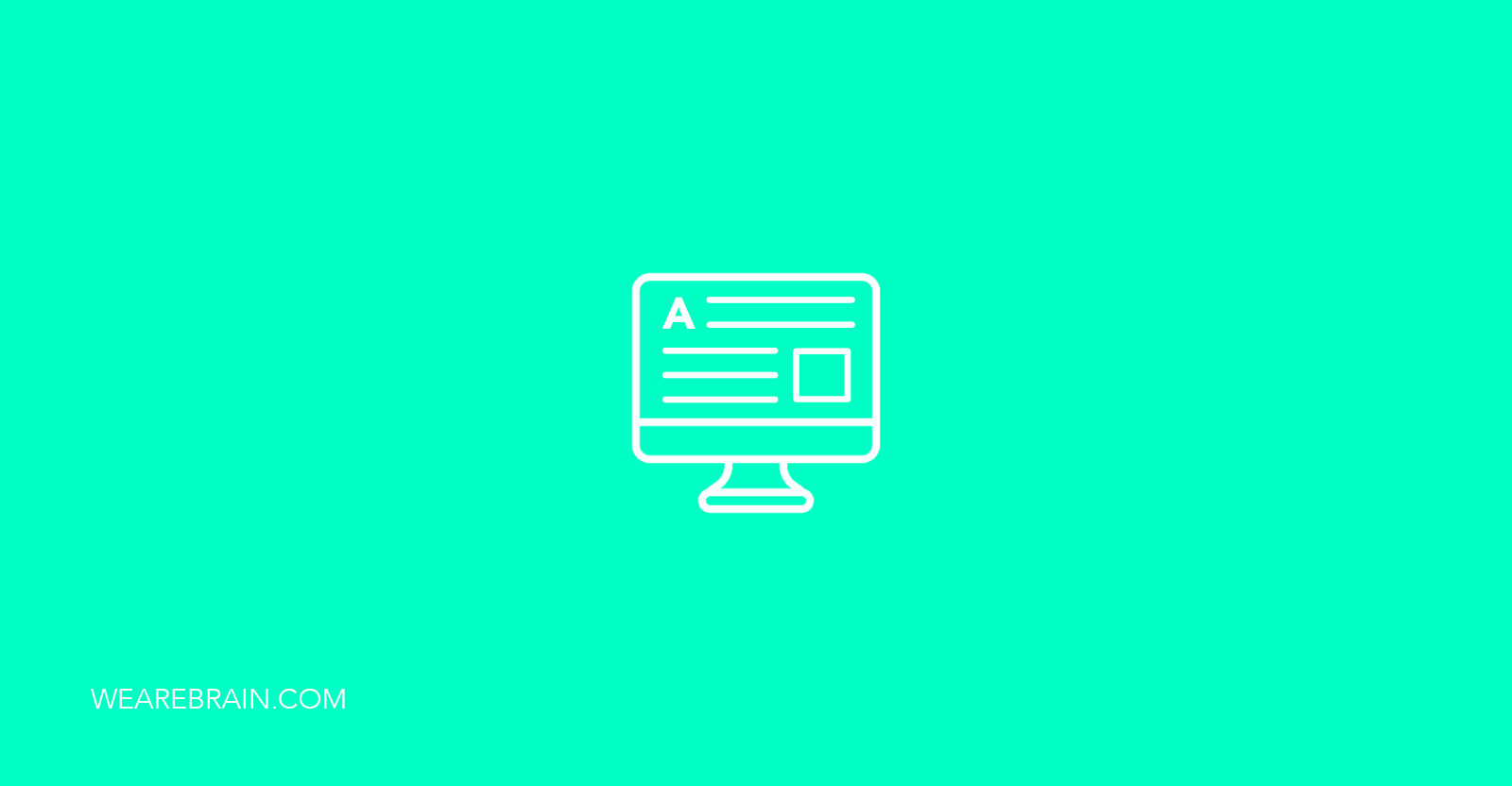 Although the term UX writing is still relatively new, the concept has been around since the launch of the first ever menu and navigation buttons. Crude and unpolished in its primordial years, UX writing has evolved into a dynamic and highly nuanced creative tool forming an essential component and driving force in the success or failure of a website, app or product.
UX writing involves creating copy for user interfaces in order to guide users within a site, app or product and help them interact with and navigate through it. It can be viewed as the nuanced art of facilitating the communication between a user and the digital product, and it's an important part in the process of building a new app or creating a digital experience.
This particular type of copy is called microcopy and it serves to assist users to interact with the site, product or app through a series of short tips and hints. These are buttons, menu copy, Ts & Cs, error messages, security alerts and cautions, as well as any kind of instructional messaging. Therefore, the primary reason for UX writing is to improve the user experience of a website or app through carefully crafted and intuitive microcopy elements.
Why well thought out copy on a site is so important
Let's face it: having the most visually appealing colour palette and immaculately designed borders, housing the trendiest fonts all mean absolutely nothing if users find it difficult to interact with your page. As most successful designers will reluctantly acknowledge, 'prettying up' content contributes only a portion to the success of the page or product. Users need to be able to interact with your page easily and effectively, with intuitive flow and navigation. If your site looks pretty but is highly cumbersome to navigate then users inevitably get fed up, leave and most often never return — no matter how good that rare shade of burnt sienna boosts the button box.
Sure, a certain colour can lead a user to perform an action, but only it can lead them only so far. The problem therein is that colours connote different meanings to people. Some see red as love, others as rage, etc. But it is words that are the ushers of the desired outcome of the user experience. Navigation copy is direct and clear to understand — it erases any ambiguity. Click here means just that, and nothing else.
Dynamite comes in small packages
Microcopy is especially useful when a user is learning the ropes of a new software or service. Onboarding is streamlined efficiently with the uses of clever microcopy. Site navigation becomes more intuitive and users are directed to what they need in 2–3 clicks or less. This is achieved by designers and UX writers narrowing the paths for the user to roam, anticipating their steps and desired outcomes. Well crafted tips that serve to assist the user while striking a rapport establishes a connection to the brand and a willingness to remain on the site. Simple, straightforward and precise copy is crucial in allowing the user to use a website or app efficiently and this is no easy feat. Crafting short copy is as difficult a task as writing a long paragraph. Users don't have time to read long-winded diatribes which have little to no value to anyone other than the writer. The aim to be heard without being too loud. The mark of great microcopy is the user not being able to realise they have been assisted in their navigation and application of the content.
Top tips for incorporating your copywriting into your product plan
As with all marketing copy, microcopy and UX writing adopts the brand voice and tone. It acts and sounds like the brand being presented on the page in the conglomeration of vowels and consonants. And lets not forget that the aim for most button and icon microcopy is commercial, so writers need to incorporate hard and soft sells in a creative way that is not jarring to the user. With this in mind we thought we'd give you some useful tips to ensure that your site copy and specifically microcopy does the job it's meant to do.
1. Get your writers involved early in the process of product design
The best way to ensure great results is to get your writers involved in the project from the get-go. As you begin to plan your new website, app or product include your copywriter so they have a clear understanding of what your product objectives are. Because communication is the basic definition of their craft they will not only be able to guide you on the best way to ensure that your audience understand how to navigate through your product, they are also likely to pick up things that might not "make sense". As the saying goes two heads are better than one, having the right minds in the room when you're planning to create something new means you can conceive a more holistically usable product.
2. Don't underestimate the power of micro-copy
The story of the $300 million button could for all intents and purposes be the first time the importance of microcopy was really understood. A very well known e-commerce platform began noticing a huge fall off in sale conversion at a specific step of the buying process. The step required users to register an account in order to complete their purchase. For various reasons (as detailed in the article linked above) there was a great deal of user fall off, even though, from a functionality perspective, a registered account was not actually required to finish the purchasing process. By changing the button from 'register' to 'continue', the company realised a $300 million increase in revenue. This specific example is the perfect example of how clever copy use and smart UX can ensure higher revenue and conversion
3. Being clear doesn't need to mean boring
The first goal of copy on any product is to promote understanding, which means your meaning should be clear and not left to interpretation. However, this doesn't mean you can't be creative. If you have great supporting copy you can start using buttons that are a little more exciting than 'log in' and 'sign up. A few really great examples of fun and clever microcopy include:
Airbnb's Search Bar
Inserting the destination suggestion feels inspiring and exciting. Like the world is quite literally at your fingertips.
Mailchimp's Sign Up button
By including "free" it becomes more enticing for those potential customers who are interested but not willing to commit to anything that will cost them money. Being clear that what they're getting is free you'll create a level of ease and trust with your users.
WeAreBrain's 404 copy
If you'll excuse the tiny brag, this is our 404 copy. It's always frustrating to not get to where you're wanting to on your favourite site. So, we decided to add a little humour and redirect our users to some of our other content so they don't feel abandoned while we fix whatever tech issue that might be plaguing us.
4. Think of all user interface the way you would for any conversational interface
A good writer creates understanding, a great writer starts a conversation. Whether it's with your brand (e.g. AI and chatbots) or with other users and potential customers. Think of the content you create as a conversation starter. Sure we've spoken about the importance of writing as a tool to promote functionality but you should also think of your copy as part of your beautiful design plans. Make sure you delight your fans every time they read something from you. With the proliferation of chatbots and other types of voice interface flooding the market, users are becoming more and more used to a conversational exchange with brands. Make sure you're not left behind and find your own way to ensure you keep the conversation going with your fans.
In closing
Good UX is as much about great intuitive design as it is about clear copy. Strike the perfect balance by keeping this in mind the next time you're building something new. If you're not sure you're getting it right. Test. Test. Test. Put someone in front of your new product without instruction and see if they get to where they need to. If they struggle, find out where the stumbling blocks are and then make the fixes needed. Make sure you do this before you put your product live. Many great ideas and products have failed because users simply didn't understand how to use them.
Anastasia Gritsenko