Meet Sam, our creative word whisperer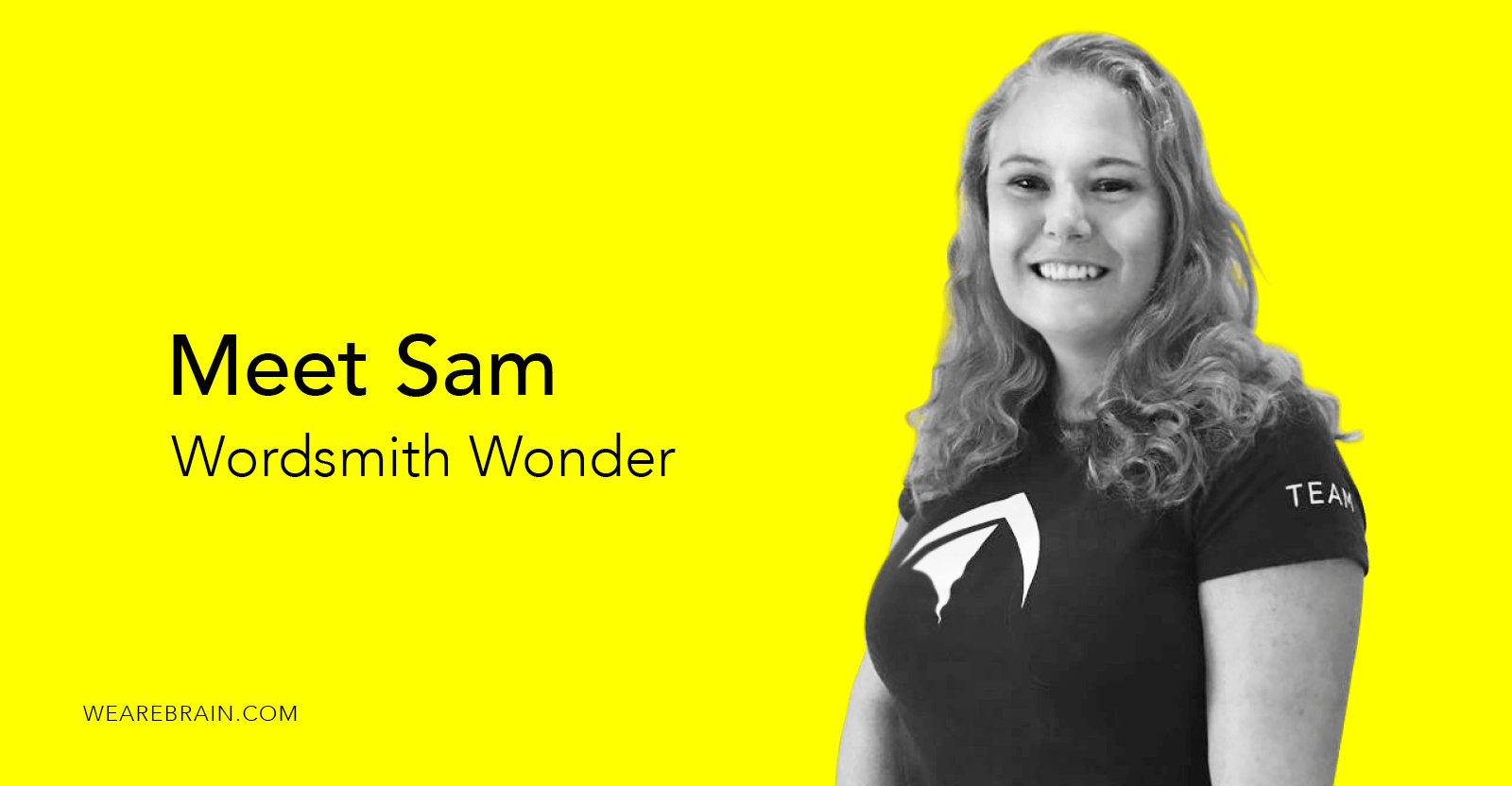 Sam is in charge of writing all of WeAreBrain's creative content. In fact, most of the words you read released by WeAreBrain comes thanks to the creativity of Sam's firm grasp of all things words. A veritable commander of vowels and consonants, Sam also works in collaboration with other Brainiacs to develop WeAreBrain's marketing materials, including design and video. "My favourite part of what I do is seeing a creative idea or concept come to life. I enjoy collaborating with the WeAreBrain team, everyone brings their expertise to the table and that's what makes what we do really innovative. You get the best from the best minds" she says.
At WeAreBrain we pride ourselves on our well established real estate on the cutting edge of tech innovation in the digital arena. And having the means to express it in a way that resonates with different audiences is a powerful tool to harness. That's where Sam comes in. We speak tech and spew out binary code and charts, and Sam translates that into meaningful sentiments that gets our points across to a wide audience. Sam also creates our chatbot personalities, making them more human and less mechanical which allows for more meaningful and nuanced interactions with users — the desire is to make users feel as if they are speaking to a human and not a bot.
"Over the last year or so I have been working with the WeAreBrain team on a number of their AI and chatbot projects, it's been a great learning experience and it's also been whole lot of fun teaching Elio, our DevOps bots and Olivia, our client, Bloom Avenue's virtual skin assistant, how to speak. Working with the brands to develop a voice that is unique to each bot character." says Sam, "If I'm honest Chabots are a bit of a passion for me, it's great to see how WeAreBrain manage to integrate solutions through the various messenger services like Slack, Skype and FB messenger. It's also a whole new avenue for writers, who are looking to get really creative. WeAreBrain has given me a lot of freedom to explore in this arena."
So what does Sam enjoy about being a Brainiac? "I like that WeAreBrain is a company that likes to experiment and test their own ideas. I think there is great value in putting your money where your mouth is so to speak. I also think that if you operate a business where you are always trying new things there is little chance you will ever get bored. It's fun to be part of so much innovation" she says.
When Sam isn't lending us her amazing ability to craft sentences, what does she do in her spare time? "Well everybody knows that I am a writer but I'm not sure many know that I am in the process of writing a book or two. I also enjoy writing poetry — I'm such a word nerd. I also like to travel a little. In the last year I have been to a dozen countries". Wow, that's a lot of air miles she must be racking up! And when she's globetrotting and testing the limit of the stamp pages in her passport, how does she kill time during those long hours of air travel? "I have a few blogs I like to read as I'm always looking to stretch my mind and imagination. I enjoy reading Farnam Street, it looks at business and how we can rethink the way we approach everything we do. I also really enjoy Brain Pickings by Maria Popova, it's particularly well written. I can also get lost on Medium for hours particularly on anything AI related. I'm a big fan of Chatbots Magazine".
As a proud South African, Sam has a deep respect for the nation's father of democracy, Nelson Mandela. If she could hop into a time machine and go back in time to witness any historical event it would be one of South Africa's most important events. "The Rivonia Trials in Johannesburg in 1964 when Nelson Mandela gave his statement in the dock which ended with "I have fought against white domination, and I have fought against black domination. I have cherished the ideal of a democratic and free society in which all persons live together in harmony and with equal opportunities. It is an ideal which I hope to live for and to achieve. But if needs be, it is an ideal for which I am prepared to die." The moment itself changed South Africa in ways no one could imagine and set my country on a collision course towards more violence and unrest for years to come. But the sentiment in his statement was very courageous and I feel like it would have been a powerful moment to witness".
With all of Sam's vast experience and talents, she still hopes to one day learn how to ride a bicycle. And with her personal life motto being 'live free or die' we certainly hope that she learns how to master the intricacies of a bicycle before cycling through busy streets!
Mario Grunitz