Meet Oleksandr Yakuba, our general QA engineer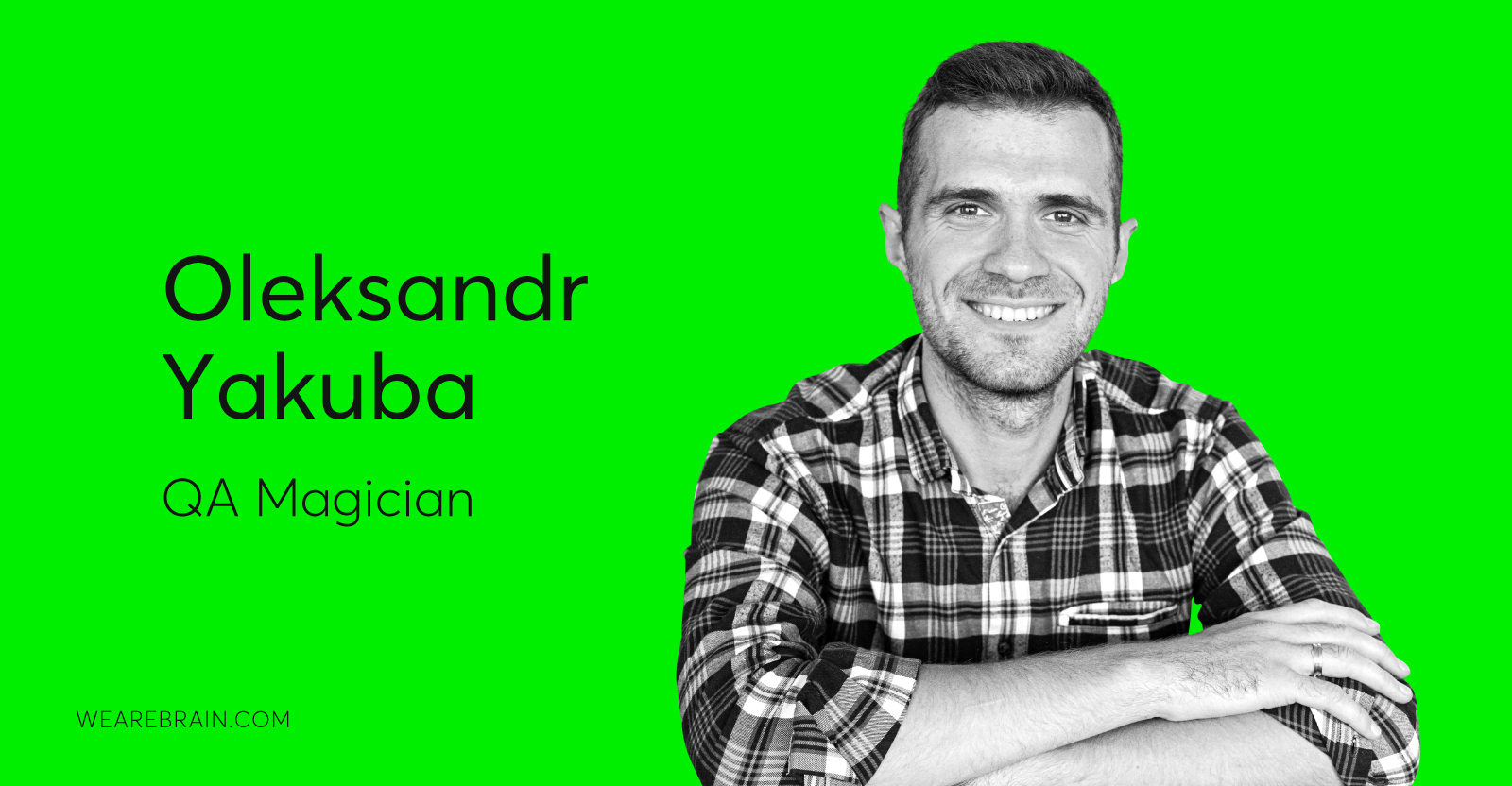 It's that time again where we introduce you to one of our tech-tastic Brainiacs in another instalment of our WeAreBrain Team Profile spotlights. This time, we are introducing Oleksandr Yukuba, one of our very talented and hard-working QA engineers.
Since joining our Brainiac family in December 2020, Oleksandr has been making waves working on a number of our ongoing client projects. For our Maxeda project, Oleksandr is a solid member of the mobile application team (known as the "Appstract" team), working on various tasks such as the creation of mobile and contract autotests for backend services. For our OpenDairy project, he handles the preparation of new documentation and builds QA processes. And for our TIP project, Oleksandr provides robust QA and general backend support to the team.
Previously, Oleksandr's studies took the form of 2 knowledge silos: history and economics. Oleksandr says that this diverse background in history has helped improve his analytical and critical thinking skills, and his background in economics assists him to avoid ambiguity and uncertainty in specifications and concepts when working on various projects.
As a true Brainiac, Oleksandr thrives in a collaborative environment. "I really enjoy the collaborative process with team members, especially developers, PMs, POs, DevOps, and my fellow QAs. It extends my project vision, which helps me to find interesting solutions to our clients' problems. At WeAreBrain, the high-level of professionalism and communication sets the perfect scene for innovation, and provides me with new ways to improve myself" he says.
When Oleksandr isn't helping to ensure our teams are developing the best quality digital products for our clients, you're likely to find him pursuing his many interests outside the workplace. "I like to play computer games, but lately I haven't had much time to do so. I also really enjoy building and creating things with my own hands. I am naturally curious about the mechanics of how things work, be it car engines or computers". Apart from this, Oleksandr is interested in economics, politics, geopolitics, and history. "I would love to go back in time and meet historical figures such as Napoleon, Bismarck, Roosevelt, and others. I would be interested to examine them closely, understand their motives, learn how they recharged their energy, and generally be inspired by their example".
We are pleased to have the likes of Oleksandr in the Brainiac mix. Like all of our team members, Oleksandr brings his own unique brand of efficiency and quality output to the table that we look for in each of our Brainiacs. Oleksandr's personal motto is "Everything is possible, always move forward" and that is precisely how we as a team operate. Onwards and upwards, Oleksandr!
David Roman