Meet Nefeli, keeping things #social in new media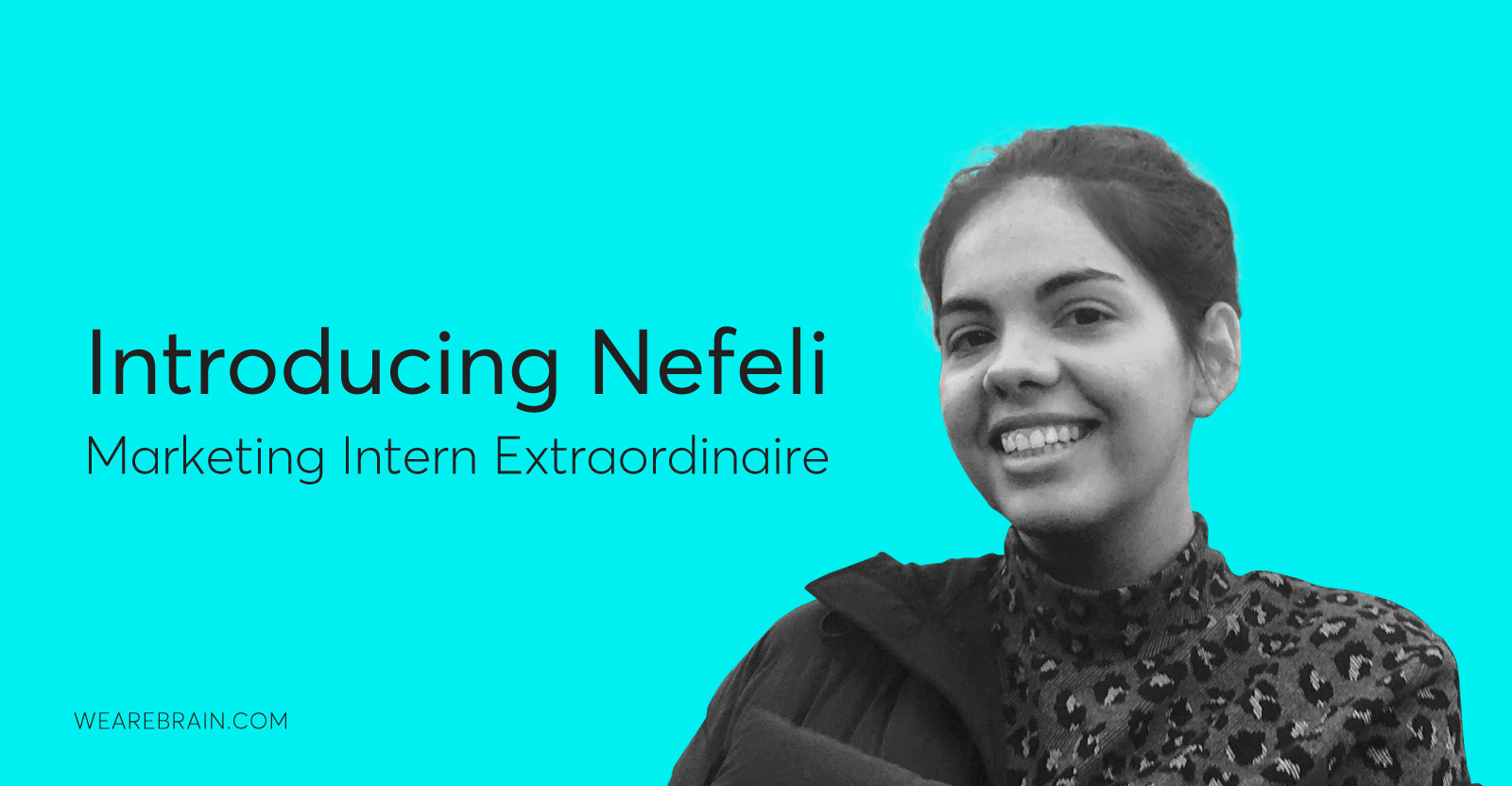 At WeAreBrain, we are constantly on the lookout for fresh young talent to take under our digital wings and to nurture into the industry leaders of tomorrow. We see the tech industry as a revolving door of the brightest and most creative minds looking to lay foundations for the next generation of dynamic tech wizards and creative go-getters. And in-keeping with this goal, it is our pleasure to welcome Nefeli to the Brainiac family.
Evropi-Nefeli Syriopoulou, or just Nefeli to her friends, is our new social media intern and she will be responsible for promoting the WeAreBrain brand across our multiple social media platforms. She is currently assisting our marketing team with building our new social media content strategy which aims to inform our audiences about our business developments and the latest industry trends. 
Nefeli is a BA Media and Information student at the University of Amsterdam, majoring in New Media and Digital Methods, which makes her the perfect fit to assist with our social media platforms. At just 21 years old, she has gathered previous internship experience assisting with the social media platforms of various NGOs, government organisations and businesses in Europe, including Albelli and the European Bureau for Conservation and Development.
A self-confessed 'talent magnet in interactive media' and 'hashtag addict', Nefeli is a child of her time. Growing up in our digitally pervasive 'always on' world, social media is almost second nature to Gen Zs like Nefeli – so she can show us a thing or two about hashtags and viral challenges.
So what does she enjoy about being part of the Brainiac crew? "I love learning new tech words! Every day is a new challenge to find social activations related to the tech industry. Working with WeAreBrain's team provides me with insights and experience into the industry. Specifically, on creative and inspirational content for social media communication."
But if you really want to get to know Nefeli on a personal level, learning the 3 things she cannot live without will give you insight into who this prolific TikTok dance choreographer really is. "I can't live without travel, vanilla ice cream, and eyeglasses" she says. 
"Traveling is always a new experience, an adventure. I discover new things, new cultures, and so my world view changes every time I visit a new country. It is my way of becoming a global citizen. Oh, and ice cream makes me happy, especially vanilla ice cream in a cone!"
If you're wondering who Nefeli might want to be for a day if she could switch places? A president of a country, of course! "I would spend 24hours trying to make the world a better place, and no matter how cliche this might sound. One of the things that I would also do differently would be to encourage more  transparency on social media pages, detailing what the government is doing, no matter what the political party's affiliation might be" says Nefeli. 
Welcome to the Brainiac family, Nefeli. We are excited to see how much youthful vigour you put into the creation of our social media platforms. And who knows, if Nefeli has anything to do with it, you may very well see some Brainiacs performing a choreographed dance on TikTok soon – stay tuned!
Paula Ferrai