Everything now: live shopping is the future of retail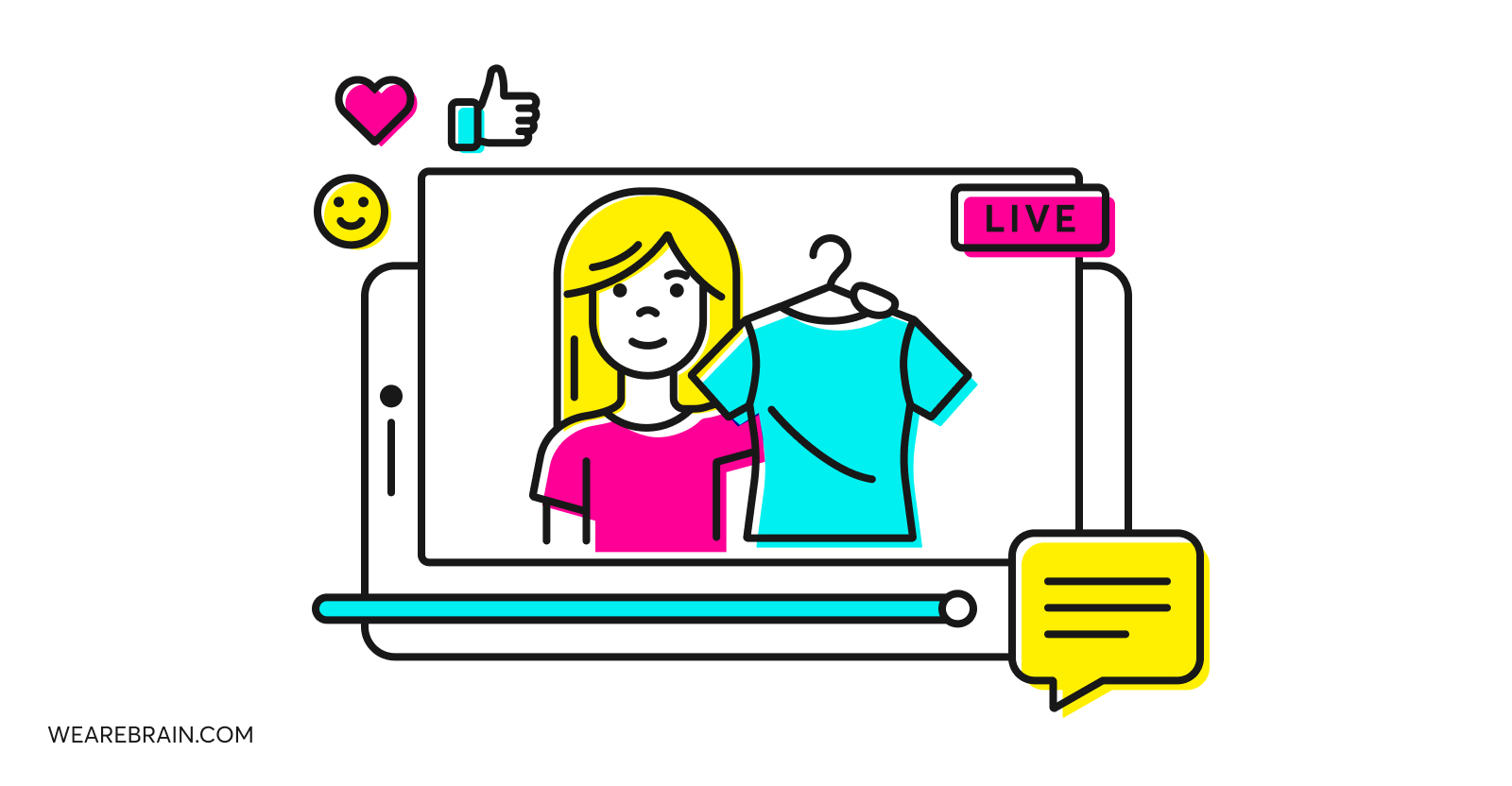 If you are thinking about starting your own e-commerce business, you will find this guide very useful: How to start your e-commerce business from scratch.
According to the latest figures, e-commerce revenues are projected to grow to USD 6.54 trillion in 2022, almost double from 2019. Online shopping is one of the most popular online activities worldwide. It is just too easy to browse and shop online these days. How easy, you ask? One swipe easy, that's how. And it's getting even easier. Let's take a look at the hugely popular and rapidly growing e-tail trend that is earmarked to be the future of retail: live shopping.
Livestream shopping, or just 'live shopping', is a hybrid between traditional home shopping TV, live video streaming content marketing, and influencer marketing all rolled up into a clever term "entertainmerce". It can come in a variety of forms, including fashion shows where consumers can purchase items on the runway in real-time. But perhaps the most popular version of live shopping is live streams of celebrities and influencers reviewing their favourite products and selling them to their followers.
The real-time excitement and drama of live stream media have been modified with e-commerce integrations as a way for brands and influencers to capitalise on a captive audience. There is something magical about experiencing live promotional sales streams from influencers which people can't seem to get enough of.
What's the fuss?
A major attraction to live shopping is that viewers are able to interact with brands and influencers in real-time. It has become the perfect bridge between online browsing and in-store shopping, where customers can ask questions and receive immediate responses from the comfort of their homes. This has a positive effect for retailers as live videos bring a traditional photographed product catalogue to life, especially when viewers can see the product being used in real-time. This also serves to assist curious and vacillating customers to decide whether to purchase during a live stream.
Live shopping also plays to our innate sense of wanting to be included, combined with the allure of exclusivity paired with FOMO (fear of missing out). With live streams happening, well, live, it leads people to believe that whatever deals and products being promoted will only last during that live stream, which increases the likelihood of buying a product on the spot. The psychology behind not wanting to miss out, particularly on a good deal, is entrenched in all of us and live shopping leverages this cleverly. 
People also see this format as a more honest depiction of a product, without the high-tech marketing and promotional tricks seen in traditional advertisements. This leads viewers to establish a more engaging personal connection with the influencer promoting new products as they are living, breathing personifications of the brand they are representing. This, of course, helps brands establish emotional connections with their customers which further boosts brand loyalty.
Of all the e-commerce trends, live stream shopping has developed a strong presence in the Asian market. China is leading with a market share of USD4.1 billion in 2019 expected to grow exponentially in 2020 and beyond. Alibaba's popular Taobao marketplace has its own live stream channel where brands and retailers publish live videos to market their products.
The Chinese live shopping market grew from $66 billion from 2019, to over $170 billion in 2020. Tencent, creators of the world's most used messaging app WeChat, is reportedly planning to invest $294 million into its own live-streaming/shopping platform Now Live. The money doesn't lie – there is clearly a projected burst in popularity and adoption of live shopping poised to erupt globally in the coming months.
But it's not just the Asian markets looking to exploit this new e-commerce trend. This year, many US tech companies threw their e-tail hats into the live shopping ring. Amazon launched Amazon Live for influencers, and Instagram and Facebook also launched live shopping features. Even Google got in on the action and launched Shoploop. As you can see, live shopping is clearly not being seen as a passing trend but indeed the future of retail.
With the COVID-19 pandemic keeping the world at home and away from the inside of brick and mortar retail spaces, live shopping has taken centre stage in keeping our desire for commodities alive. With the advancements in technology continuing to make e-tail a simple, fun, and interactive process, people are becoming more aligned with the idea that this can be the new way to shop online. This is why many global brands are trying to emulate the trailblazing endeavours of Taobao which continue to prove that live shopping is not just a passing trend, but the future of e-tail. In an 'everything, now' culture like ours, where people want to watch and be inspired by what others do, live shopping is poised to become the prominent elixir to quench our insatiable thirst for e-tail.
Until recently live shopping was limited to 3rd party platforms. What about your own website?
The next phase of live shopping will be all about blending offline and online in an engaging and entertaining shopping experience on your own website, boosting online sales with your own brand narrative and full control over customer and transaction data.
Want to get started?
At WeAreBrain we offer a wide range of live shopping services from tech enablement, program strategy, product catalogue management, chat moderation, pre- and post-show activities and of course Data & Analytics.
Mario Grunitz