Introducing Anastasia, WeAreBrain's multi-lingual, multi-talented head of UX and design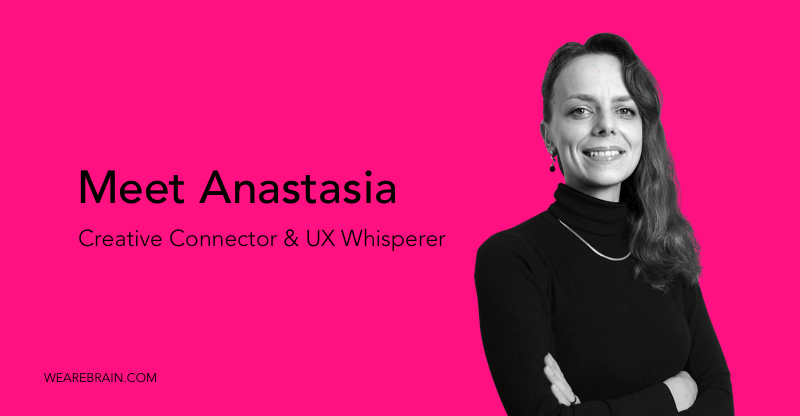 Anastasia is our new head of UX and Design at WeAreBrain. Formerly the UX lead at Jungle Minds, Anastasia heads up our burgeoning UX expertise to support our strategy for growth in the product design arena. Working out of Amsterdam she leads a team operating from The Netherlands, Ukraine and South Africa.
Anastasia has had a solid career in the UX space to date working on both the corporate and agency side. She has worked on some exceptionally interesting product builds in the past for the likes of Vodafone and TomTom. Also lending her experience to names like Spil Games and Info.nl. Her experience is as varied as her talent. And her talents aren't only confined to the UX sphere, Anastasia is by far the coolest geek in the office as she speaks Russian, Dutch and English fluently. очень круто!
"It is a great experience working across so many countries. Projects that I'm involved in are very innovative — almost in the invention space. WeAreBrain is not afraid to take on technological innovations and try new technologies that they're not used to working with, and are willing to take the risk so they can find the right solutions for the users" says Anastasia.
Anastasia was born into a family of designers so you wouldn't be far off saying that creativity and design thinking is quite literally in her blood. She was formally educated in Industrial design and digital product design growing into the UX space through the course of her career.
"My aim is to grow teams and create an environment where designers can flourish. Ultimately creating a design culture that brings the user into the product. I don't only focus on the UX department. It's important to get everybody on board, not just the designers but the tech team too. Bringing everyone along for ride, designers, developers and strategy teams alike."
In her spare time Anastasia loves to read! Anything from sci-fi and fantasy novels to the latest on anything in the UX and design space. She also loves to listen to a good podcast. One of her favourites is NPR, "they do some magic storytelling using a full spectrum of multimedia. It's top class journalism". Two of her favourite books are Homo Sapiens and Homo Deus books — Yuval Noah Harari.
One of Anastasia's biggest highlights in her life was becoming a mother and she has a particularly brilliant way of describing parenthood: "Becoming a parent is like moving to another planet or a parallel universe. People still see you and you're still in the same place but your life is totally different".
A keen traveller with an insatiable thirst for exploration, Japan is next on her travel list, "The Japanese culture is so beautiful and fascinating. Their modern design is amazing" says Anastasia. She certainly is culturalist and even though she is already completely fluent in three languages she definitely wants to learn more. "I believe that as technology advances mastering new languages will just get easier."
When asked what legacy she'd like to leave behind, Anastasia says this "Architects leave their legacy in the buildings they leave behind. They tell stories of technology and culture that was prevalent in their age. Working in digital is similar. Many think because technology advances so quickly what they do doesn't really have a lasting effect but I believe that each building block moves humanity forward in a specific direction. I want to make sure that each piece the I put in place in this 'building' is ethical and will ultimately make things better for the world."
With Anastasia heading up our UX and design teams, we're sure to expect beautifully designed smart products coming out of our technology workshop.
Paula Ferrai