Meet Yevheniia Heriak, our bug-hunting senior QA engineer
Contributor
Elvire Jaspers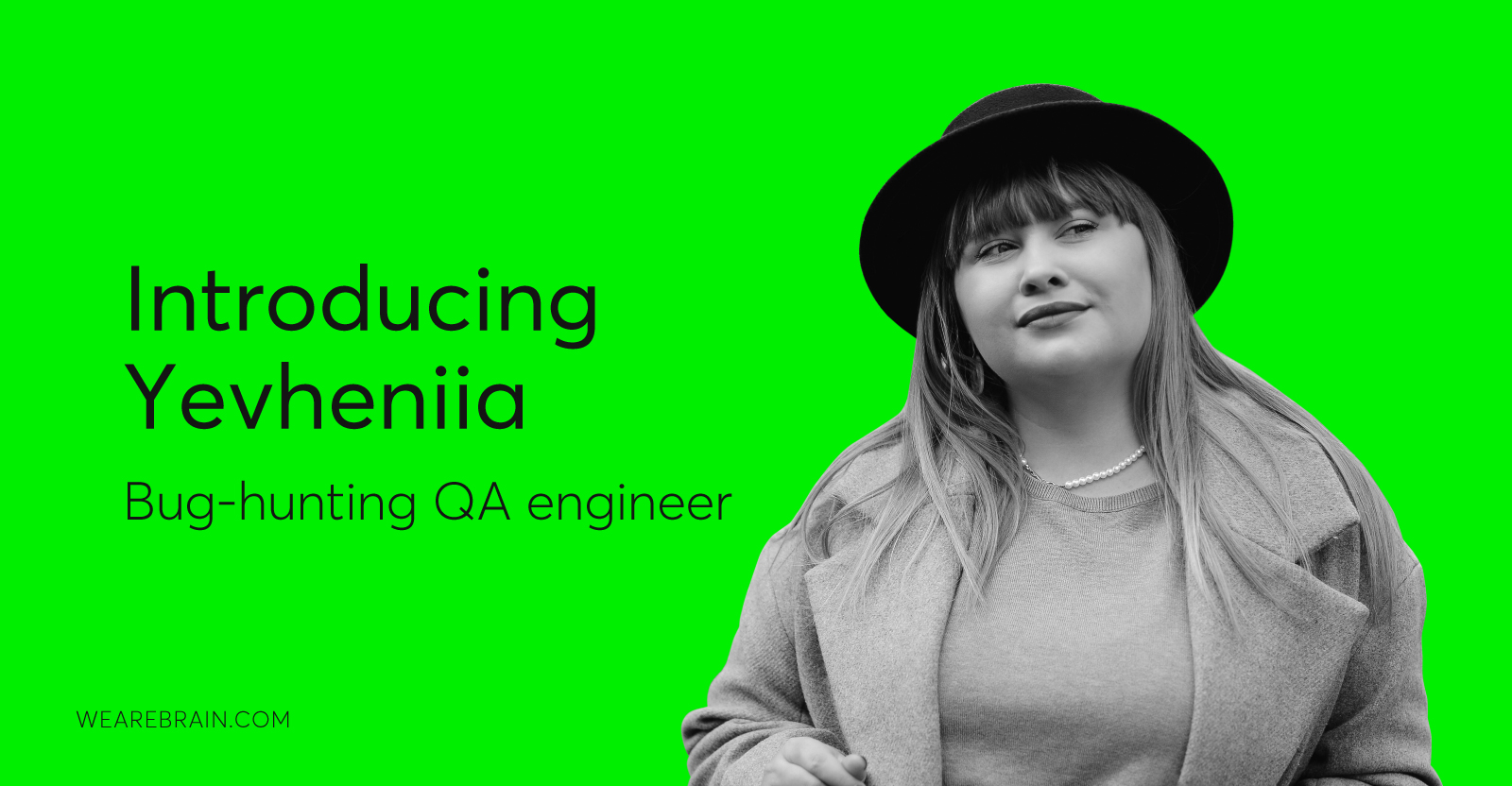 Our WeAreBrain family is such a diverse mix of interesting characters. We want to introduce all of our Brainiacs so our readers can get to know more about the amazing talent we have driving our projects. 
Yevheniia Heriak is our amazing senior general QA engineer. She works on our large Maxeda portfolio, making the Brico and Praxis websites more attractive and enjoyable for users. 
Yevheniia's educational background in Information Science has helped her develop the crucial skills and know-how needed to be a great QA engineer. But she also has some help at home. Her husband is a developer and has taught her a lot about programming and how to understand and work with programmers. 
Before joining our Brainiac crew, Yevheniia worked as the team lead for the testing team for one of Ukraine's largest online shopping platforms.
Chatting to Yevheniia for 2 minutes makes you realise just how much she loves what she does. "I really believe that QA engineers ensure ultimate user happiness because our job is to find critical and annoying bugs before users do. So, I like that my work makes people happy through enjoyable digital experiences."
Yevheniia is very happy to be a part of the Brainiac gang. She enjoys the friendly and supportive atmosphere where everyone has each other's backs and supports the team in any way they can. "The people here really make you feel part of the family. It makes every working day that much more enjoyable when you feel supported by your peers."
When a day of bug-hunting as a senior WeAreBrain QA engineer is over, Yevheniia's work still is not done. She likes to spend her spare time giving online QA courses where she teaches students from around the world about Quality Assurance. "I am happy that I can introduce people to a new profession and teach them skills that can change their life for the better". Yevheniia's goal is to nurture future QA talent and transfer her knowledge to the next generation to progress the QA profession.
When she isn't playing the role of bug whisperer, Yevheniia likes to work on her Instagram travel blog dedicated to showing the beauty of Ukraine. Her dream is to help attract more international tourists to visit Ukraine and enjoy the beauty of the landscape, culture, and tradition. "I blogged a lot before the war, and I am sure that when peace is secured in Ukraine, people will begin to return to travel the country."
We are so happy to have you as our senior general QA engineer, Yevheniia. Your dedication to your craft is inspiring and we look forward to seeing how you make a positive impact not only in the world of QA engineering but also in travel blogging. We look forward to celebrating peace in Ukraine with you and all of our other Ukrainian Brainiacs.
Elvire Jaspers