Meet Viacheslav Boiko, our full-stack code whisperer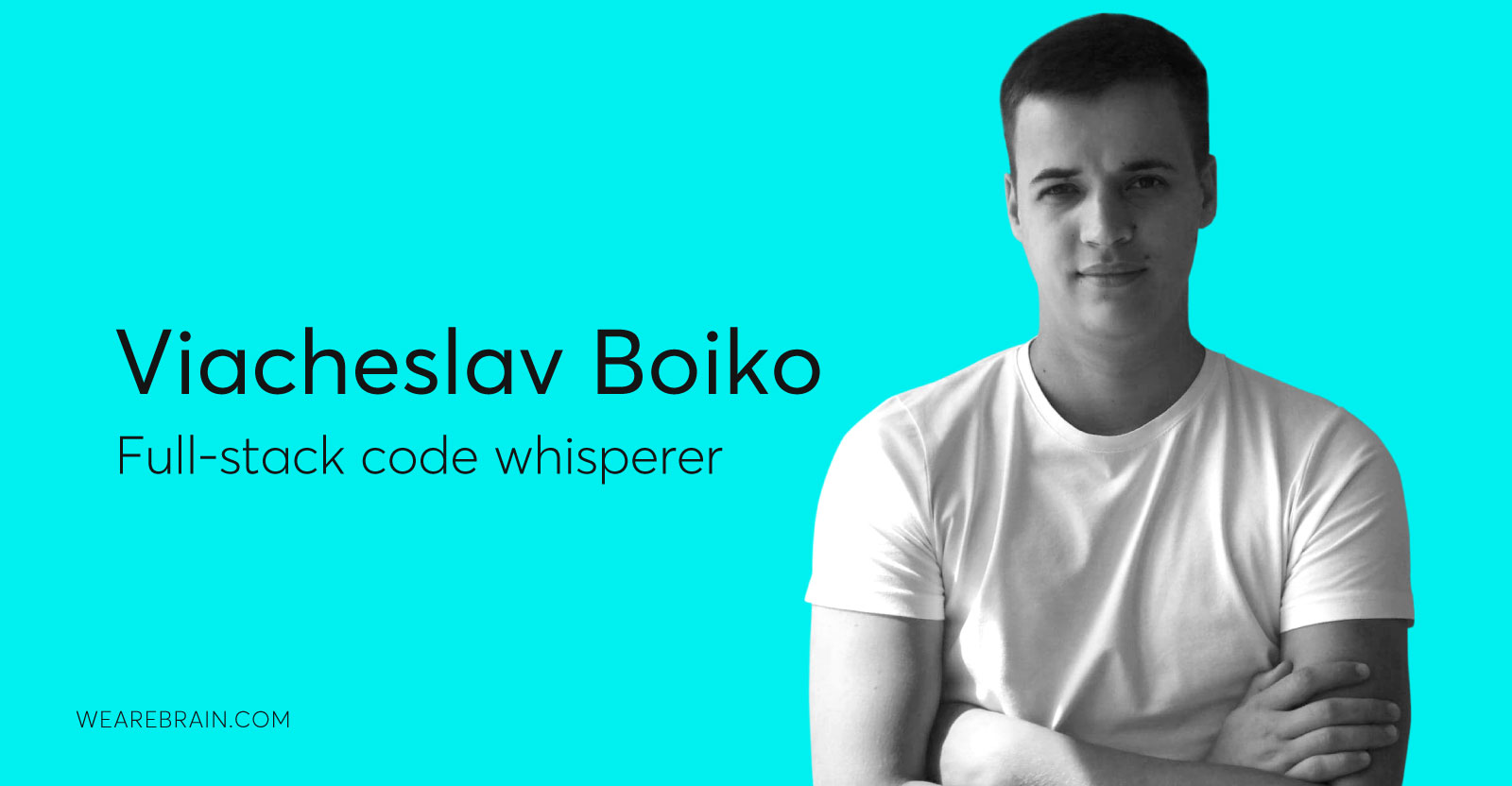 We are very happy to introduce another member of our delightfully divine Brainiac crew to you: Viacheslav Boiko.
Viacheslav is one of our multi-talented full-stack developers currently working on projects for our clients, OpenDairy. For those of you who aren't entirely sure what a full-stack developer does exactly, allow Viacheslav to explain (he gets asked this a lot at dinner parties so he has his explanation waxed):
"As a full-stack developer, I am able to develop for both the front- and back-end. This involves working with databases, servers, systems engineering, and clients. I'm like the Swiss Army Knife of tech developer nerds".
If, like many people outside the tech space, your brain went a little cross-eyed at some of the terms he used in his explanation, let us break it down in simple(r) terms.
Think of a website or mobile application as a restaurant: you have a nicely decorated dining area that welcomes guests and helps them easily reach their goals. This is the front-end. The kitchen, where all the food is made and is hidden from customers' view, is the back-end. 
In most cases, chefs (back-end developers) seldom set the table, and conversely, not many waiters (front-end developers) prepare the dishes. Full-stack developers like Viacheslav both prepare the food and set the table.
As a full-stack developer, Viacheslav is well-versed in all coding languages, from JAVA, PHP, and C # to Python, Ruby, and Perl, etc. His previous experience working in FinTech helped him develop his diverse set of skills. 
But being a code whisper is only part of Viacheslav's character. He loves exploring the outdoors and has a passion for fishing and travel. When he isn't baiting marine life or exploring new destinations, you can find him at home developing his pilot skills on his flight simulator. In another life, he would like to be an air force pilot. Maybe it's just a hobby, or maybe he is planning to fly himself to his next travel spot?
Viacheslav is also an avid football fan and supports English football club Arsenal (#upthegunners). He reads numerous supporters blogs and follows each player transfer and team development with a keen eye.
If he could witness any historical event first-hand, he would like to see the reply of the Zaporozhian Cossacks to Sultan Mehmed IV of the Ottoman Empire. That's pretty niche but then again, that's very Viacheslav 🙂
David Roman