Paula takes us on a deep dive into her passion for underwater exploration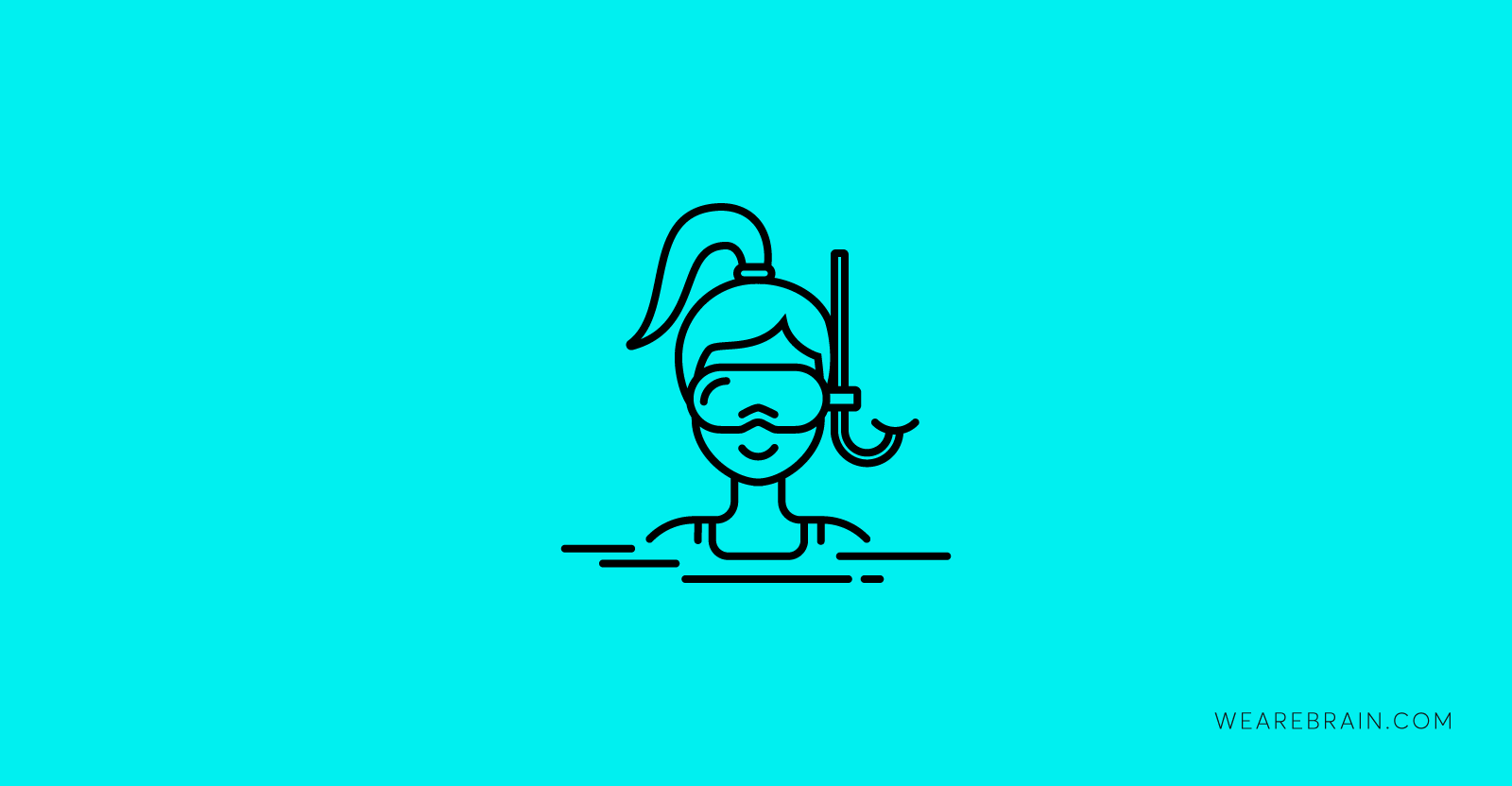 If you're anything like us, then you probably spend more time than you would care to admit playfully wondering what your co-workers get up to in their spare time. We have a few weird and wonderful characters roaming the WeAreBrain offices, including Paula, our marketing maverick and all-round cool kid. Our curiosity finally got the better of us so we sat down and chatted with her about what her passion is outside of the office. Here's what she had to tell us about diving.
Q: When did you start diving?
I started diving about 20 years ago while on vacation in Martinique, a small island in the Caribbean. At first, I wasn't sure this would be a sport for me, since I'm not a great swimmer, but I liked the feeling I got being underwater. So I completed my first diving certification and haven't looked back since.
Q: What is it about diving that you like the most?
I love the fantastic feeling of floating underwater where you are weightless, and you move together with the gentle currents around you. The environment is incredibly peaceful. The fact that you hear your own breathing with the bubbles coming through the regulator makes it like a form of meditation. The scenery underwater is absolutely beautiful and marine life is breathtaking to witness, with colourful flora and all types of fish. Diving regularly will definitely spare you a trip to the shrink!
Diving has also taught me a lot in terms of learning about nature and respecting it. You are there as a spectator and should not touch, move or break anything. That also means that you sometimes have to deal with conditions that are not easy or ideal, like strong currents, poor visibility, and cold water, for example. But that's also part of the excitement.
Q: What does it take to become a divemaster?
After my first certification, I went on a couple of diving trips and decided to complete another course to improve my skills so I would feel more comfortable underwater. My instructor kind of planted the seed in my head at that time, suggesting I could join the diving centre and complete a divemaster certification. So that's what I did! I first had to do a Rescue Diver course, where you learn how to save people's lives when needed. That was probably the hardest of them all — imagine trying to lift a body 3 times your size outside of the water! After that, I took leave from my job and spent about 4 months on the Red Sea in Egypt. I was partly studying and training for my certification, but also guiding groups underwater. This is one way of becoming a divemaster (combining work and study), but you can also do a course without the practical/work aspect.
Q: Where was the best place you've ever gone diving?
I did a lot of diving in the Red Sea so I have many incredible memories from numerous standout dives. One of the most memorable moments took place on a diving site, while we were actually having a snorkelling break in between two dives. The sea was a little rough and hundreds of dolphins had come for shelter around the reef and were swimming all around us. It was just amazing.
Q: What are the most important things you need to remember when you're diving?
Safety, of course, is super important. You need to make sure that your equipment works well, so checking it before you jump in is of paramount importance. During the dive you should not take unnecessary risks or ignore decompression rules: at some point, you need to make your way up again, and there are certain stages to follow depending on how deep and how long you have dived. Generally, diving should remain a recreational activity so the idea is to have a nice time while respecting the environment you're in.
Q: Where is your dream dive destination and why?
I have so many dive spots on my bucket list that it is difficult to choose just one! I'd love to dive in Malaysia but I've also heard great things about the Philippines. And then there's Micronesia, Fiji, Indonesia, Bonaire, the list goes on. I want to go back to the Red Sea at some point. It's too difficult to pick! There are lots of fauna that I haven't seen yet: manta rays, whale sharks, hammerhead sharks, the mola-mola sunfish, so there is definitely still a lot to explore and discover.
Thanks so much for speaking to us about your passion for diving, Paula! You have been to incredible places around the world and have seen some of the amazing beauty our oceans have to offer. We hope you get to visit a few of your bucket list dive spots in the future, and when you do please share some photos!
David Roman