Meet Omar, an entrepreneurial designer of all trades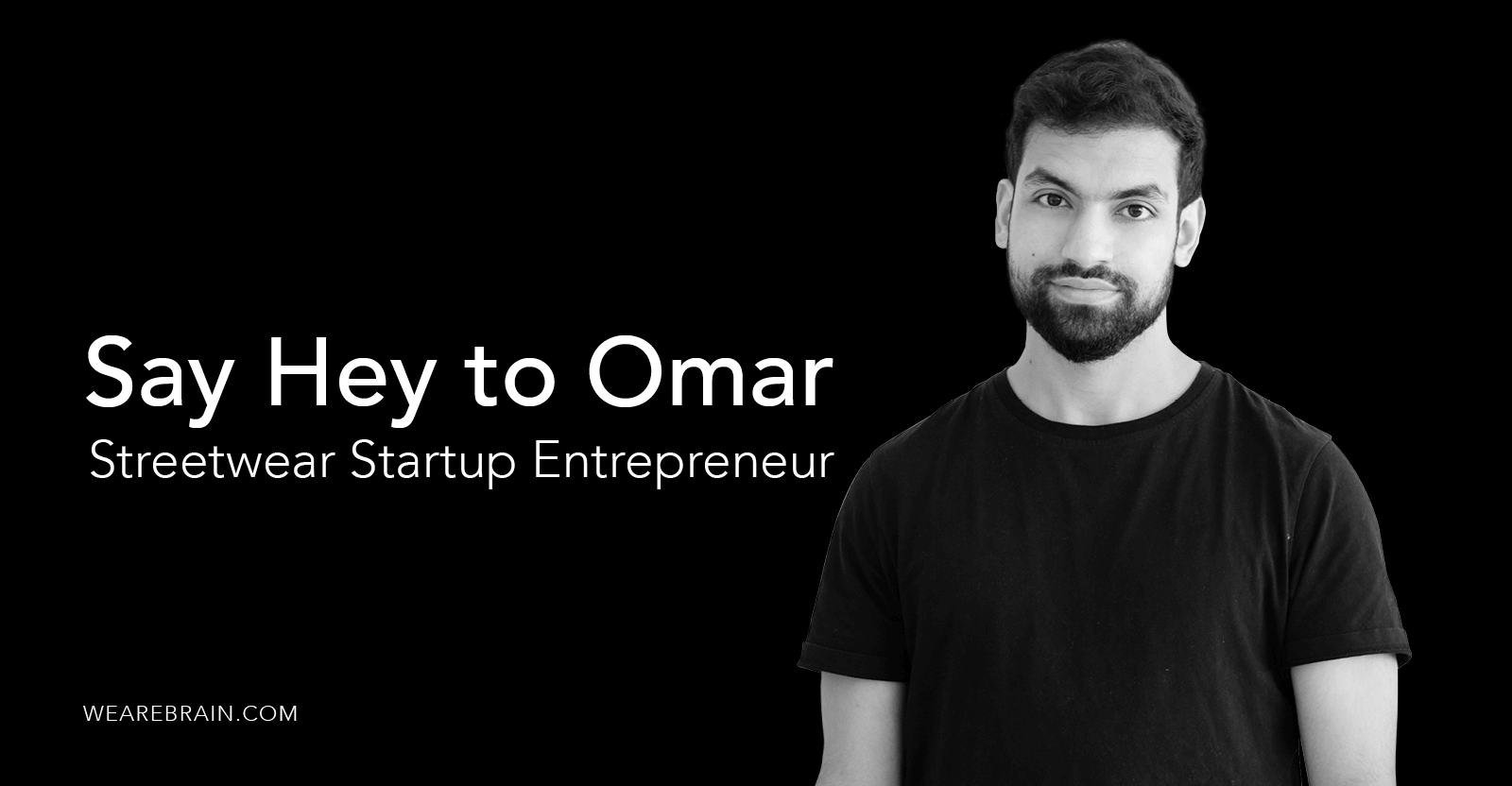 At WeAreBrain we consider ourselves to be family. We all work closely together on a litany of amazing and diverse projects and through this we really get to know one another both professionally and personally. And Omar is a long-standing member of the family. He was with us when WeAreBrain first opened its doors back in December 2015 and he is still with us, fighting the good fight and always pushing creative boundaries to produce innovative work at each turn.
Omar is our talented Content Project Manager and his vast array of skills and eager determination continue to impress us. When he isn't managing projects he also lends his hand at building websites from time to time. "The diversity in projects makes my work fun and never dull. Also the team feels like a big family and that improves the work environment a lot!" he says.
His keen eye for design and aesthetic has led him to start his own fashion business, PRECINQ, where his main role is lead creative designer. "PRECINQ is an Amsterdam-based streetwear fashion label that offers a perfect blend of athleticism and style. The premium clothing that we offer has clean, simple and nuanced design features" he says. Of course, creating your own startup also means you have to wear many hats and be a jack of all trades.
We sat down with Omar to find out more about his entrepreneurial spirit and how he plans to make a big dent in the European streetwear fashion scene. Here's what he had to say.
Q: What got you interested in the Startup space?
There's a certain kind of rush you get when you start seeing your own ideas coming to life. From concept to living creation! It's amazing.
Q: When and how did you get the idea or concept for your business?
I have always been fascinated with fashion and design. So it was always a dream of mine to create my own fashion brand where I could see my ideas become reality.
Q: How many people did you start with and how many people do you have on the team now?
We started with 3 people and then we grew by 33.3% when Mario, WeAreBrain's co-founder, decided to join us.
Q: What is your vision for PRECINQ in the future?
We want to be the company that defines accessible high-end streetwear. Our vision going into the future is to become the go-to streetwear brand across all European markets. We aim to provide high-quality items at a reasonable price.
Q: I'm sure when you began formulating your ideas for your company you had to interrogate the market thoroughly, what would you say is your competitive advantage and why can't it be copied?
The fashion industry is very competitive. The most important thing is to create a strong name for yourself. Fashion needs to be easily and instantly recognisable added to that we believe that the quality of each item should far exceed its price. So when we're working on a line we always have those two thoughts in mind. Allowing us a competitive edge.
Q: What things took you by surprise throughout the process of bringing your business to life?
We knew that It wouldn't be easy, starting from scratch. None of us had any previous experience in the fashion industry. We also didn't foresee so many hiccups in the first phase of building the business. We really didn't realise what a hassle the production process was going to be. And keeping a team motivated and positive is a big challenge, especially when you're in unchartered waters yourself. The most important lesson learnt was that you just never give up. Push forward even when the odds are stacked against you.
Q: What mistakes did you make?
"When the going gets tough, the tough get going", or so they say… and it's true, when you come up against challenges you never expected and you're having to pivot, innovate and hustle keeping everyone motivated all the times is really hard. But we believed in the idea and the product and that kept us going. You need to believe in yourself and your dream, even when things seem impossible. Also, don't try to do it all by yourself. We did for a time. the truth is for success you need people around you to help and support you.
Q: What is the one piece of advice you'd give to other budding entrepreneurs?
Keep believing in your dream. Even if you think the timing isn't right. Just adapt and don't stop creating wonderful ideas.
We are very proud to have Omar as a core part of the WeAreBrain family. He brings so much creativity and enthusiasm to the table and his drive and determination is infectious to the whole team. We are incredibly happy to have people like Omar who have an entrepreneurial spirit and who look at things differently. It creates a particularly valuable dynamism in our team and inspires our creative endeavours further. Good luck with your business, Omar. We will follow your success closely!
Paula Ferrai