Meet Oleksii, our new office manager – looking to bring a fresh brand of dynamism and symbiosis into our Kyiv office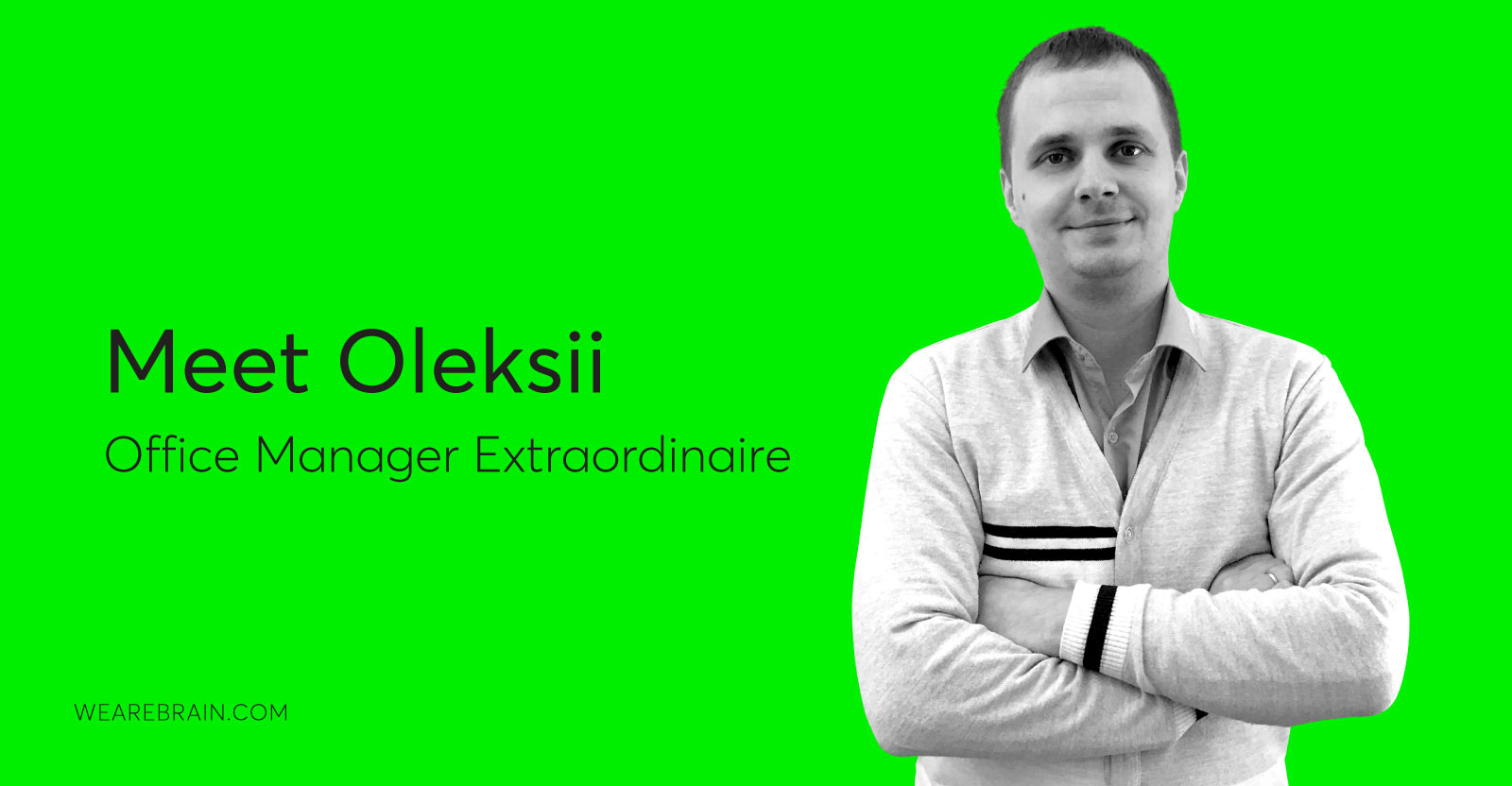 The latest appointment to our crew of awesome Brainiacs comes in the form of Oleksii, our new office manager. Oleksii will take charge of our Kyiv office and assist the team with all their day-to-day administrative tasks and general office management. Our team of creative tech whisperers always feel relaxed when they know that their daily office management requirements are in safe hands, and that is precisely what Oleksii provides.
"My goal is to ensure that life in the office runs smoothly without complications. I achieve this by helping to create a friendly, approachable and overall comfortable working environment to get the best out of my team" says Oleksii. He is able to achieve this due to his extensive background in administration. Before becoming a Brainiac, Oleksii worked for 4 years as an administrative specialist for Asters, Ukraine's largest law firm. Before his successful stint at Asters, Oleksii worked as an accountant for 3 years, giving him experience in understanding the intricate mechanics of business and what elements contribute to a profitable enterprise.
With his accounting and specialist administrative background, Oleksii is not your average office manager type. He is full of energy and is constantly pushing the boundaries of his position to see where he can help his fellow Brainiacs make their mark on the global tech industry. "I am a big fan of a dynamic approach to management work. I am always searching for new ways to make things happen".
His fresh approach to office management will no doubt create a new wave of creative and technical proficiency sweep across the boardrooms and think tanks of our Kyiv office. His method is no secret — in fact, he makes it clear to his office at every touchpoint that the path to successful product and service development is beholden on the idea of teamwork. "My working method is based on clear communication, and each particular project requirement is discussed and arranged as a collective decision between myself and my team". Leading from the front with ultimate transparency and communication is a fundamental component of the WeAreBrain approach to business.
So what does our newest Brainiac think of his new company? "WeAreBrain has creative, responsible, and highly professional employee and management structures which makes all our jobs easier. When there is a symbiotic dynamic between team members and management it allows us all to put all our focus into creating memorable products for our clients."
A proud family man and father to his son, as well as a patriotic Ukrainian citizen, Oleksii is a sure fit into our mix of creative gurus and tech savants.
Welcome to the Brainiac family, Oleksii! We have no doubt that your passion and drive will make a powerful impact on all our Kyiv-based Brainiacs' approach to creating meaningful products. We look forward to charting your successes with us. Onward and upward!
David Roman