Introducing Pavel, our Front-end Frontman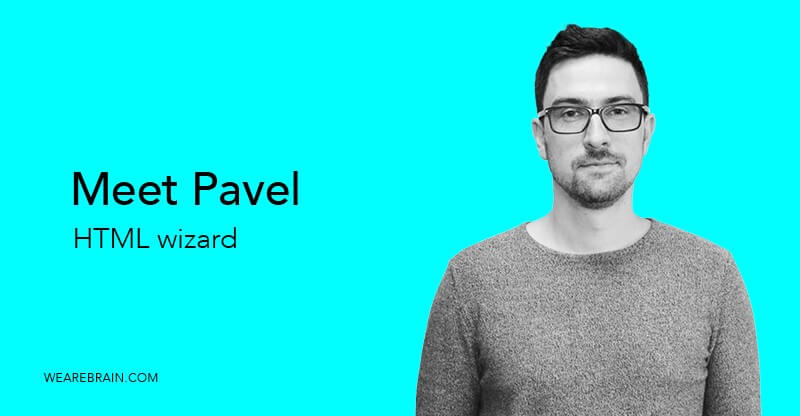 This week we'd like to introduce you to Pavel. He's a front-end developer or as he says it, the implementer of really cool designs for WeAreBrain and our clients :-). He is really passionate about his work and loves that all the projects he works on at WeAreBrain are unique. The reason he really enjoys working as a front-end developer is because "with design you are creating something you can see, 'touch', interact and engage with. Taking lines of code and bringing them to life with animations and effects"
While Pavel has always been in the IT space and went to university to study automation machine building, he only found his penchant for front-end development later in his career. He finds that being part of a project from the beginning and making something come to life is what really drives him professionally. When he has a minute spare you'll find him reading wesbos or visiting CSS tricks to keep himself up to date with the latest in the front-end arena.
One of Pavel's secret skills is to take broken things and bring them back to life. Whether it's a coffee machine, a PC, his son's RC car or his wife's hairdryer he just loves to tinker away on restoration projects.
Even though Pavel absolutely loves working in Front-end development, if he could switch careers for just one day he'd like to be a monster truck driver explaining that he thinks it would be really awesome to be in such a powerful machine everyday 🙂
Pavel's core philosophy centres around the fact that life changes so frequently that you should prepare yourself for and be ready for anything. Pavel values family and his relationship with God above all else and explains how these are the top two highlights of his life. Also saying that if he could witness any day in history it would the resurrection of Christ.
Pavel loves everything technology related and his energy when working on new projects and sharing new ideas is unending. "The thing I love about working at WeAreBrain is that I can always be myself. I am given space to work on and realize my ideas during the working process." says Pavel.
We're really happy to have such a talented and driven front-end guy like Pavel on the team!
Pavel recently wrote an article on visual regression testing you can read it here.
Paula Ferrai