Charlotte t'Sas talks about digital transformation
Contributor
Elvire Jaspers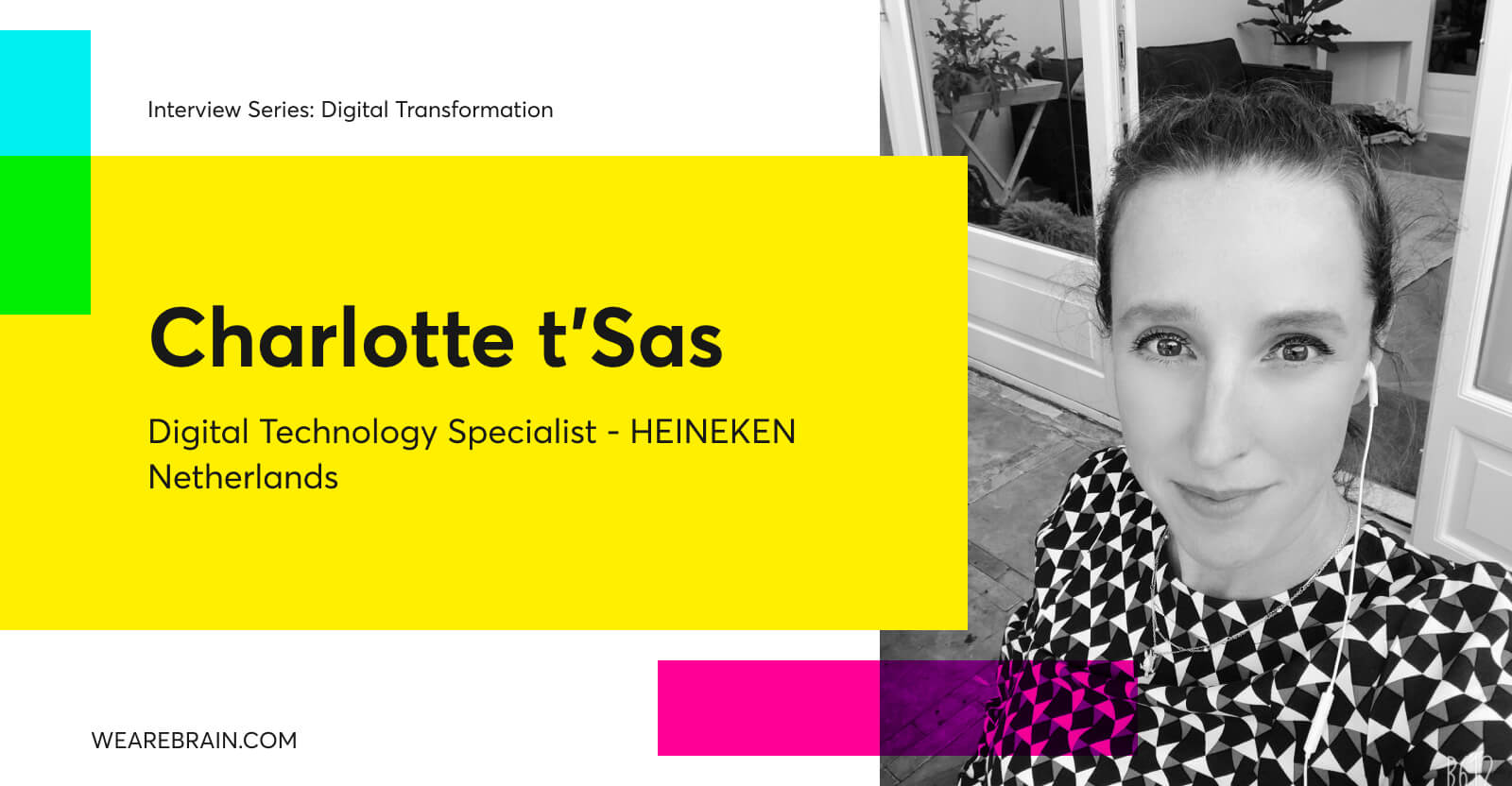 We are back with the next instalment of our Digital Transformation article series, where we get the opportunity to interview some of the leaders making waves in the global technology industry. This week we chatted with Charlotte t'Sas, Digital & Technology Specialist at HEINEKEN Netherlands.
Charlotte is mostly involved in marketing and retail projects and programmes. Together with the team, she helped conceive and develop the HEINEKEN Rewards program. Implementing an Agile mindset and approach, she and her team focus primarily on digital and data, as well as new ways of working with tech.
We were very eager to hear more about the specifics of her role at HEINEKEN Netherlands, and what propelled her to break into the industry and work with one of the world's most reputable brands. Here's what she had to say.
Q: What drew you to the tech and digital space in the first place?
I've been working in my current role for 7 years now, but the nature of my work has undergone dramatic changes over the years. I studied International Relations at Amsterdam University, which is of course something completely different from my current job. I began my career in a Public Affairs office and somehow, either through cosmic intervention or sheer chance, I gradually evolved my role into Public Relations, specifically for internet companies. That's when I started to shift towards digital, and my introduction to the tech world soon followed – I haven't looked back since.
Q: How would you define digital transformation as part of the digital projects you are working on at HEINEKEN?
At HEINEKEN, we have a dedicated pillar in our overall corporate strategy specifically aimed at digitising our company, so digital has become extremely important for us. This process is a transformation in itself for HEINEKEN. To me, digital transformation is a way of approaching workflow and a working mindset. We implement a range of tech/digital approaches in the way we work, such as an Agile mindset and design thinking. These approaches traditionally come from a tech background but are now becoming relevant for all roles within our company. We apply a data/results-driven focus in all spheres of operations, especially in our customer-facing endeavours.
I'd say that our team is a front-runner in new ways of working at HEINEKEN. Through our projects, we serve as role models for the rest of the departments in the company. For example, we use a Scrum process, and delegate and divide our roles according to these principles. As such, we coach new Scrum masters in the rest of the organisation. We work in sprints, as we really want to be able to adjust and adapt as we go to truly be agile. We do this on a company-wide scale, and so this is a cultural change for HEINEKEN.
Q: When we look at successful initiatives such as HEINEKEN Rewards, what do you think is driving the need for digital transformation in hospitality, and in this case specifically CRM and retail marketing?
For us, it's great if our team can contribute to the success of the organisation from within. As a team, we like to develop applications where we can set up new channels and applications internally in order to control timings, ensure flexibility, and set up campaigns quickly and simply (HEINEKEN Rewards, for example). We are able to adjust campaigns along the way which helps us pivot according to new insights as and when they are revealed from customer insights.
Creating these kinds of applications within a company allows us to learn much more as opposed to having a supplier do it for us. Plus, we have control over our data, so we learn more about the consumer journey and get first-hand access to customer feedback. Very importantly, we are able to share our insights and knowledge across our entire organisation so all departments across geographies can benefit. In the case of HEINEKEN Rewards, our teams around the world have the option to use and adapt the work that we've done. We're currently talking to our Global Office to see if we can roll out the initiative globally.
Q: How did you prepare your roadmap for a long term initiative such as HEINEKEN Rewards?
We prepare all our roadmaps together with our internal stakeholders, and the roadmap for HEINEKEN Rewards was no different. Usually, our team develops ideas for innovation and what we'd like to accomplish, but we are always in close communication with our 'internal clients'. For now, our roadmap is focused on being relevant to our customers, and we use our digital capabilities to do that. The question we always ask ourselves is 'is this relevant for both our customers and our business?'
Q: How would you define 'success' for these types of ambitious digital projects?
'Success' varies depending on the campaign. For example, a huge F1 campaign that we ran last year has drastically different goals and criteria compared to a small local campaign where we introduce a new product. In general, we are successful when our projects are relevant and when we learn more from our consumers to improve continuously (i.e. gather important insights).
Q: How did COVID-19 change or accelerate digital transformation at HEINEKEN?
At HEINEKEN, we were quite well prepared when the pandemic started. For our tech department, working from home was a seamless endeavour, from a technical aspect, that is. There were no problems with connections or access to files as we already use collaboration tools like Office 365, Microsoft Teams, etc. Of course, video calls replaced face-to-face meetings which took some getting used to (much like the rest of the world), but we have really great guidance from the company's HR department about how to balance work and private life during the pandemic. After a while, you start missing your colleagues though, which just shows that HEINEKEN is like a big family: we all work together really well, and there's a great open culture where you are always heard as an individual.
For our digital team, COVID-19 accelerated our Agile way of working a little bit more. We're now even more practical than before, and efficiency is really high. The need for relevance and focus increased and that informs us which projects are most important.
Q: Where do you draw your inspiration from (eg. books, blogs, events, industry leaders)?
Within HEINEKEN we have a lot of town hall meetings and presentations from teams, management, and the global board which are always really inspirational. They allow us to keep in touch with the organisation itself. I work mainly on data and digital, Agile, and digital trends, but also marketing and retail, so these are the types of blogs I follow. We also have access to a lot of training materials on LinkedIn and other platforms, for example. Plus, we learn a lot from our colleagues, agencies, and partners. So there are many ways to stay informed and ahead of the competition.
Q: After the massive success of HEINEKEN Rewards, what's next for you? Any exciting plans for new digital initiatives?
Unfortunately, I cannot go into specifics but we have an exciting digital project in the works. But for all our digital projects we focus heavily on relevancy: we listen to our customers and consumers really carefully, that's where our focus is company-wide. For me, it's all about data and digital capabilities, sharing knowledge with colleagues, new ways of working, an Agile mindset, coaching, and design thinking. When talking about an Agile mindset, it's important to understand the definition of it, but also what you can do with a website, with digital and data. So, knowledge-sharing throughout the company is a key element for me.
---
We really appreciate Charlotte taking time out of her busy schedule to share her valuable insights with us. It is really inspiring to see her making such a tangible impact in her field and we look forward to seeing the next amazing digital experience from her team at HEINEKEN.
Elvire Jaspers