Meet Alison, design mind and social entrepreneur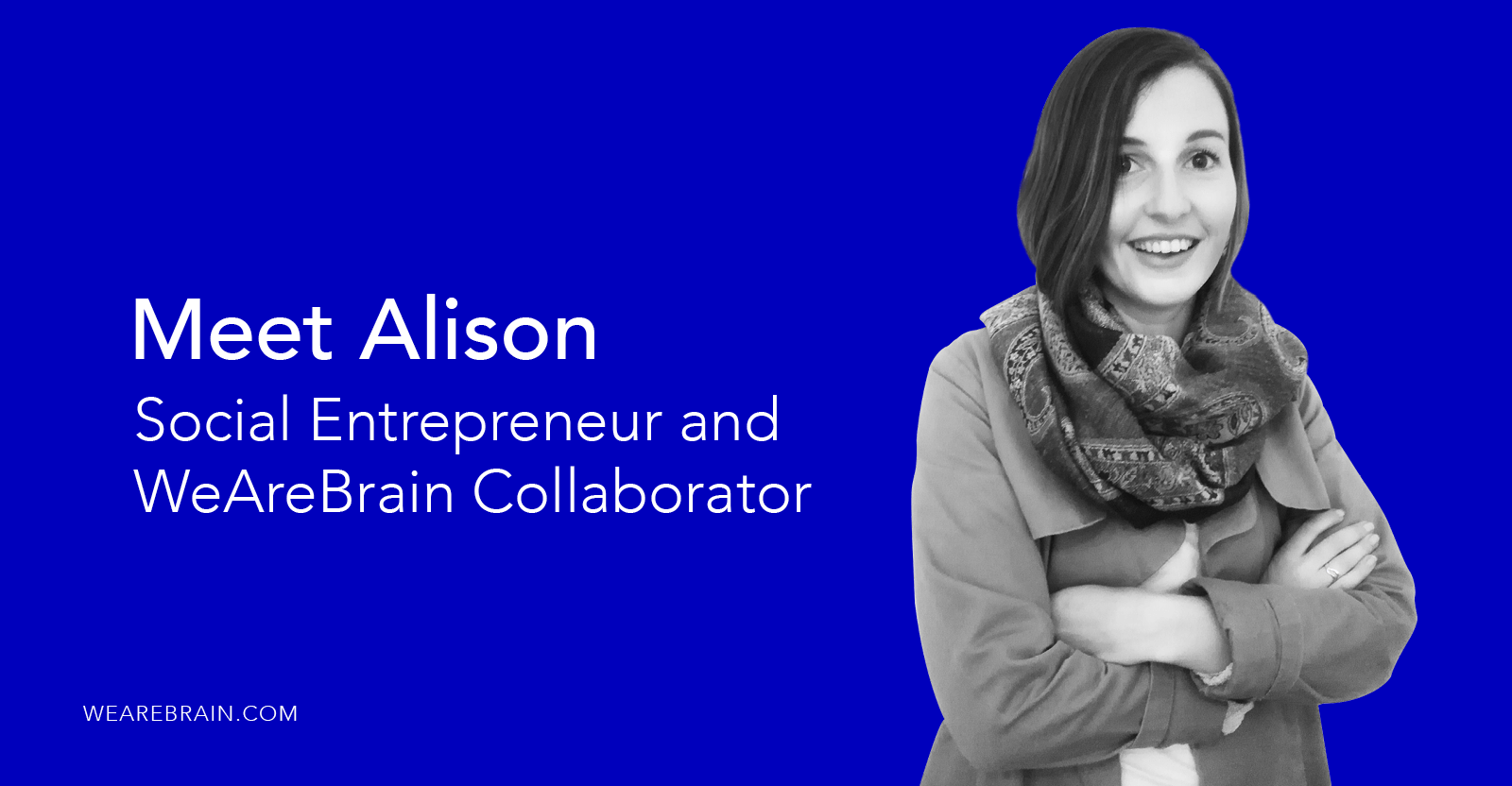 This week we sat down with Alison Harris, our part-time designer and full-time social entrepreneurial star from Cape Town, to find out a little more about what she does for both us and her local community.
Alison has been providing us with her incredible design talents for almost a year and a half now and she continues to impress us with each project. Her creative flair and artistic eye helps keep WeAreBrain's aesthetics on point and her boldness and desire to keep pushing the creative boundaries is a perfect match for our working ethos. "I love that WeAreBrain likes to push the envelope and are constantly growing and evolving. I am excited to keep growing with them" she says.
A social entrepreneur at heart, Alison is also CEO and founder of Sk8 for Gr8, a social enterprise that pairs up professional creatives with at-risk youth to bridge the gap between kids with lack of education yet brilliant minds and creatives through networks and exposure. "I have always known that I wanted to do my own thing, I was never really great at working set times for set times sake. I also thrive on ideation and coming up with new concepts, business ideas and solutions, making the startup space quite a natural fit" she says.
We asked Alison a few questions about being a social entrepreneur and having a positive impact on her local neighborhood. Here's what she had to say:
Q: Origin stories are always great — when and how did you get the idea or concept for your business?
Firstly, I am in the creative field and I have always known that I wanted to use creativity for good, until one day I got to know some of the kids from the area I was staying in, Woodstock, Cape Town, South Africa). We used to have many kids come and beg for money or clothes at our door and we hated simply giving them stuff and closing the door, so we started having Sunday lunches with them. Through our discussions, so many of the kids were blown away about what I did as a career, and at this point, I knew that I needed to create a space where more kids could be exposed to creative opportunities. Woodstock is a creative hub, yet so many of the kids didn't know about creative opportunities.
Q: How many people did you start with and how many people do you have on the team now?
It started with just myself spearheading the idea and soon grew to an additional 3 board members and many brands and people coming alongside us to show incredible support.
Q: What is your vision for your company in the future?
My vision is to see a much more diverse creative industry as a result of the kids going through our program and exploring creative fields. I also hope to see more creatives sharing their skills and seeing that you can make an impact as a creative too. I hope to be running workshops worldwide and have a franchise model that can expand beyond my singular capacity. I hope to see our brand in the hands of many influential people as well as many kids in developing communities.
Q: What would you say is your competitive advantage and why can't it be copied?
I think that anyone's competitive advantage is themselves in all honesty. This idea was placed on my heart and I have a specific vision for it. That being said, I believe that similar projects should startup, because that would mean more kids' lives are being impacted. I am not afraid of collaboration and joining forces, and quite honestly that excites me even more. I am not just another brand trying to get exposure, but with every workshop run we are impacting a child's life who deserves to be recognised and supported. It has been an exciting, hard, fun, really trying, energy-giving and energy-taking road, and I believe we have only just begun.
Q: Have you participated in any funding and investment programmes? If yes, which? And would you recommend going this route to other entrepreneurs?
We have been very lucky to be chosen for a few start-up programmes that have been incredibly valuable. The main one would be Red Bull Amaphiko, where they chose 16 social entrepreneurs to support for 2 years through mentorship, exposure, funding of specific needs and a support network. I would definitely recommend becoming part of some sort of support network because entrepreneurship is not always easy and it is incredible to have people to lean on and ask advice.
Q: What things took you by surprise throughout the process of bringing your business to life?
Definitely people willing to help. I have been blown away by the support of other entrepreneurs. It doesn't have to be a dog-eat-dog world. You simply have to ask questions. The worst that can happen is that they don't know or they say no. Really not so bad. I was also blown away by how much growth can happen in such a short period of time. If you want to understand business, start a business.
Q: What mistakes did you make?
I came across the best acronym for 'fail' from a friend who said that fail actually means "First Attempt In Learning". I've definitely failed or made mistakes, but they have actually been my biggest and most valuable lessons. One being not trusting my gut. I was approached by someone to work on the project and I immediately felt like it wasn't the right fit. But I doubted myself and I convinced myself that I was being judgemental. So I brought the person on board. It turned out that my gut was absolutely right, they were not a right fit and it created far more work and stress for me. But we got through it (with far more extra work and time), and I am still alive and kicking having learnt a valuable lesson.
Q: What is the one piece of advice you'd give to other budding entrepreneurs?
Protect what feeds you as an individual. For me that is creating and ideating as well as family and relationships. Running your own thing can sometimes become quite admin focussed, but in order to ensure that my wellness and happiness is intact, I need to ensure that I continue to feed myself creatively. Some examples are by continuing with some freelance work such as WeAreBrain, taking pottery classes and surrounding myself by community.
---
WeAreBrian are very proud to be working with Alison who not only is incredibly talented with her design skills but also deeply passionate about social change and helping others. She is a perfect fit for us as she is capable of seeing the bigger picture, always willing to make it work by pushing the boundaries and constantly striving for excellence. Great work, Alison! You are an inspiration to us all.
Paula Ferrai