A Fireside Chat with Luuk Roestenberg, Maxeda's Manager of Digital for the DIY Group
Contributor
Elvire Jaspers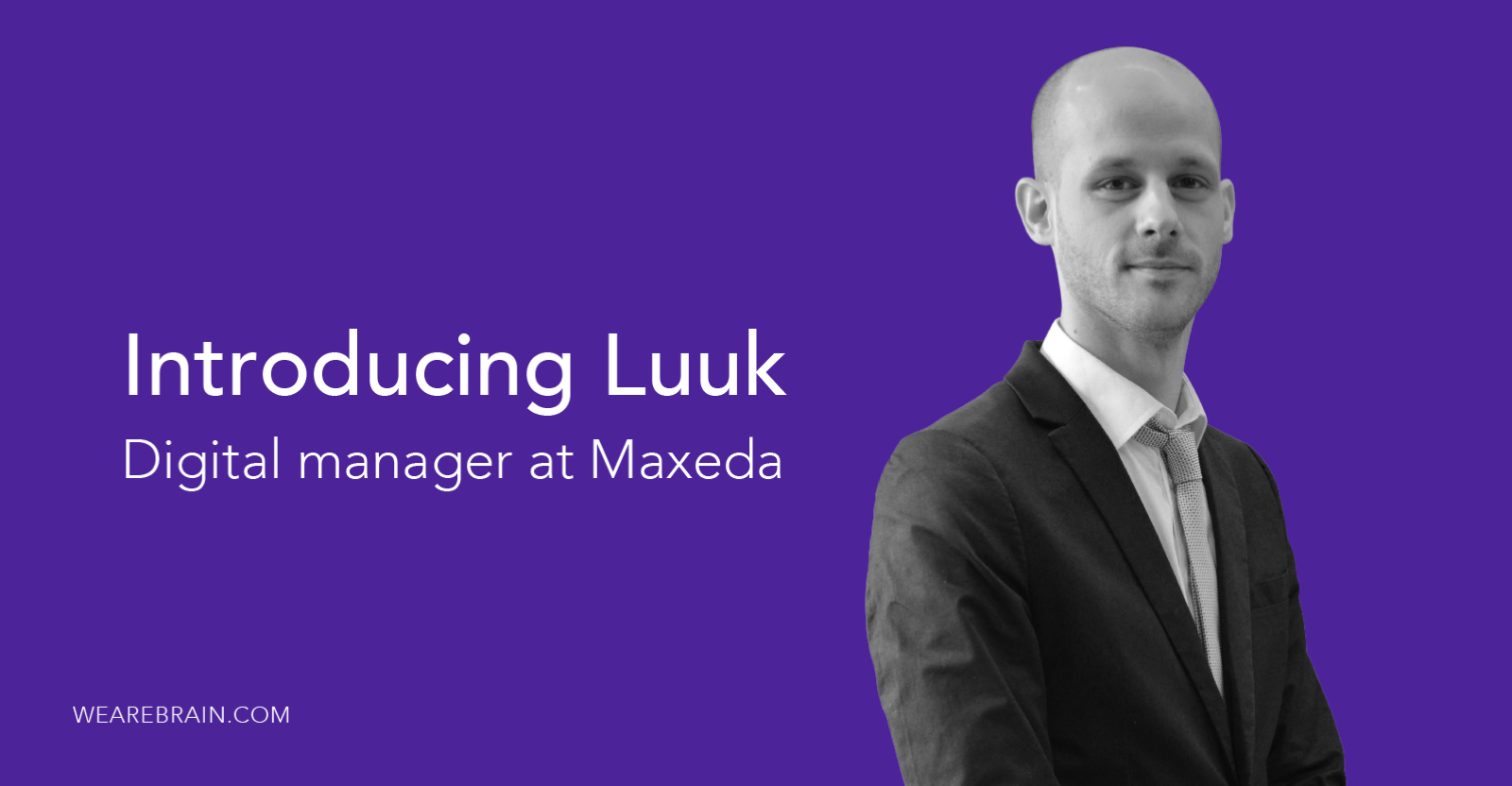 Luuk Roestenberg is the Manager of Digital for Maxeda DIY Group — market leader operating 389 stores across Benelux (Belgium, the Netherlands, and Luxembourg), employing over 7,000 people. Luuk's primary focus is managing its digital product development department and he is responsible for the company's digital development roadmap. WeAreBrain has worked closely with Luuk and his team to support Maxeda's digital transformation.
We sat down for a chat with Luuk to find out more about himself, his job and his ongoing pursuit for digital transformation in his workplace. Here's what Luuk had to say:
Q: What drew you to the tech space in the first place?
It wasn't so much 'tech' per se, but the change the internet was bringing at the time to our personal lives and our professional environment. I'm hugely fascinated by all the new opportunities, threats and possibilities the online world brings us and I wanted to be a part of that. My first job was at a startup travel company with a business model which at that time was not taken too seriously by a lot of people. After several years this company was very healthy and wealthy, it had the most traffic in the travel business in The Netherlands and had a huge impact on how people search and book holidays today. And I think consumers are better off now. This was a good example of how the 'digital world' can impact an industry. I like to be contributing in these changes and I think at Maxeda we're on track to also have a big impact.
Q: How would you define digital transformation?
In my opinion, it's about embracing the fast-paced, changing, experiential, learning-based, highly automated world that the possibilities of online technology has brought us, in the most efficient way for the company.
Q: You seem to be a real proponent for digital transformation, why are you so in favour of it?
Because digital technology plays a huge part in people's lives nowadays and you have to be able to reach, help or assist them where they like to be reached, helped or assisted. Also, in digital or IT development, interesting and highly effective ways of working have been developed which are very usable to deal with our rapidly developing digital world. These methods can bring a lot of value when adapting them to your organisation and are, in my opinion, necessary to keep up with the changing environment and keep attracting customers.
Q: Digital transformation can look very different company to company, what does it look like at Maxeda and how do you see it evolving?
At Maxeda digital started with all digital disciplines held in together in the same area. New ways of working, like working Agile via Scrum, were set up in the IT Digital part and by quickly setting up new processes we were learning what works in e-commerce and what doesn't. We were mostly focused on developing our e-commerce website. But we are a retail company and the connection with our retail organisation was not as strong as it could be. Also, we were reaching the limits of our technological landscape which was causing us to not be as fast and flexible as we wanted to be. Also, it didn't provide us with the data and insights that could improve our retail organisation as a whole. What happened next was that the digital department was broken up and spread over the organisation, so that every department had people working on digital. It was also decided that our technological landscape needed to be upgraded and it was highlighted that digital and stores go hand in hand.
Right now the most important development is to have the whole organisation realise how technology can help them be more successful in their jobs and how to implement such solutions in the most efficient way. Our board is supporting this and 'digital' is one of the growth engines for our company.
Q: What is driving the need for digital transformation?
Our customers' needs and habits, and the more effective and efficient way of working that automation and digital technology can bring.
Q: How did you prepare your roadmap for digital transformation? Is there a rulebook to follow?
I think it differs with each organisation and everybody needs to learn what works best for their organisation. What I do think is important in every organisation is to have the technological landscape that supports working in this digital age. Everybody will hit that wall if they do not pay attention to it. You have to have single sources of truth and a flexible environment which allows quick, small releases.
Q: Why does digital transformation matter?
Because you have to evolve with your customers, and customers are living in a world where digital technology and digitally supported business play a huge role. You have to keep looking at where and what your place is in the value chain and how you can perform the best there.
Q: 'Businesses don't transform by choice because it is expensive and risky. Businesses go through transformation when they have failed to evolve' — Do you believe this to be true? Or is this changing?
The world changes, people change and companies should change too, otherwise, you fall behind and are not relevant in the market anymore. When there is a gap because you haven't evolved fast enough, there is a need to 'transform' so you can close this gap or organise in such a way that you can close the gap quicker. Since the market has been changing so fast in the last decades, it's important that companies are able to change or evolve just as fast. Doing a transformation sounds to me like there is a beginning and an end, but the market keeps evolving and changing. I think we should be good at evolving quickly.
Q: For anyone interested, where could they learn more about digital transformation?
I think it's important to keep up with what's happening in business in general but also in the digital business realm specifically. Read what others are doing, what worked, what failed. And try to think about why things have worked or failed for a company or why they are doing what they are doing.
I personally have my own dashboard where I follow the headlines of a lot of websites that write about technology (theverge.com, tweakers.net, wired, etc.), retail (retailtrends), online business (emerce, marketingfacts, hbr, techcrunch, etc.) and try to keep up with the business news in the big newspapers and online news portals. Also, try to talk and meet up with other people in your business to get new insights.
Q: How do you feel working with WeAreBrain has contributed to your vision about digital transformation?
WeAreBrain has always been involved in the digital developments of Maxeda. They've done this by providing clever people to work on the technology but also by regularly thinking with us about what's happening in the market and talking about new technologies and the opportunities and threats they bring. Next to that, we've discussed a lot about how to implement these technologies and ideas in the most effective way and put this into practice. It's very helpful to have a partner that is enthusiastic and proactive with regards to digital technology and how it can bring retail further.
WeAreBrain are proud to work closely with Luuk and his team at Maxeda to provide innovative and specialised digital developments to ensure the business remains on top of their game, always pushing boundaries to discover new ways of improving their service offering and customer interactions. We are very excited to see where all of our collective hard work will take Maxeda DIY Group. Onwards and upwards!
Elvire Jaspers