Google Analytics 4 (GA4): the time to migrate is now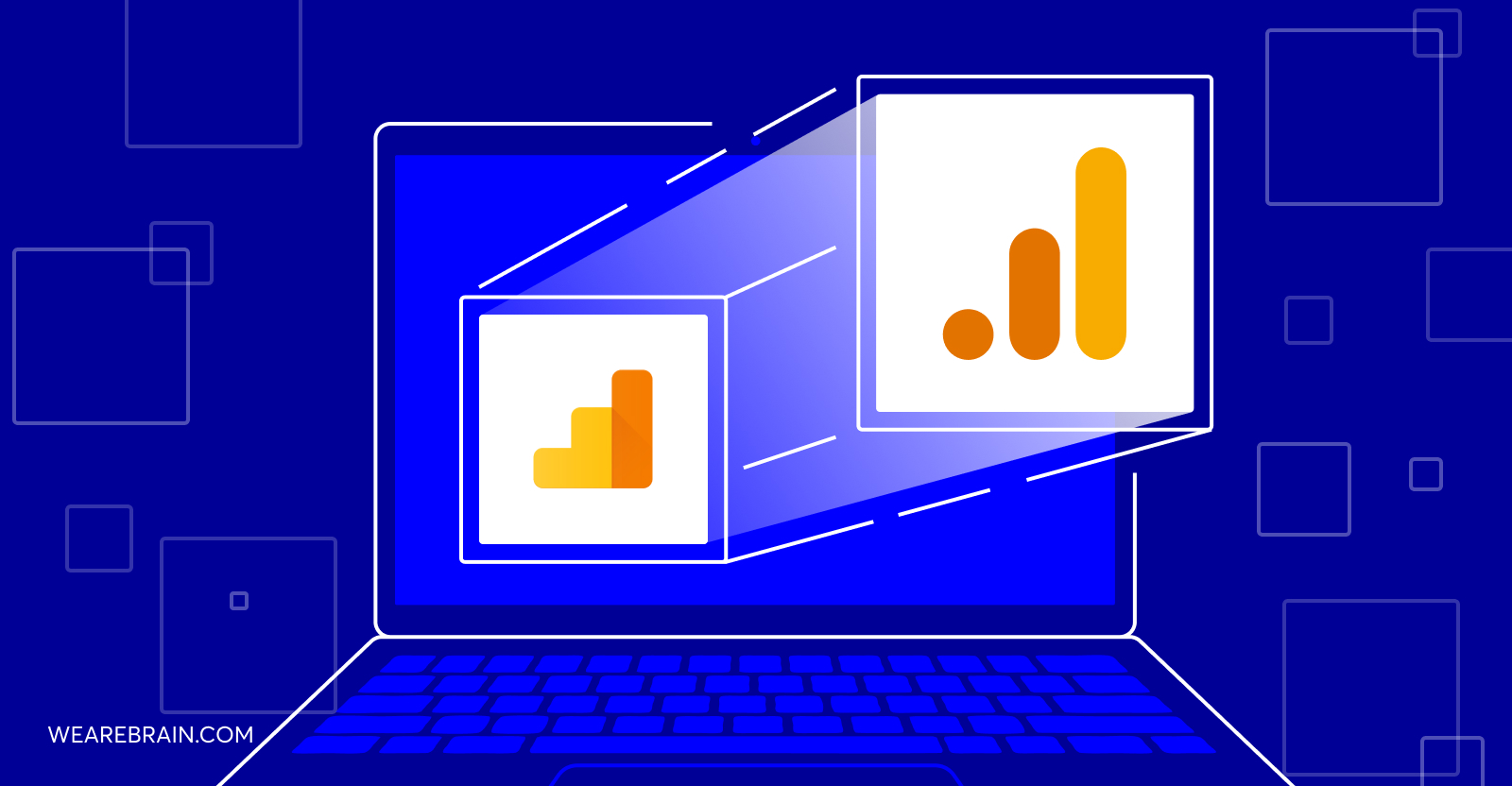 Analytics is one of the key elements of a consistently performing modern business. Google Analytics (GA) has assisted organisations for years in making informed decisions based on a deeper understanding of their customers and competitors. Now, Google is improving its analytics functionalities by moving to GA4, which promises to deliver even more insights to keep businesses driving forward.
Google Analytics 4 (GA4) is the latest version of Google Analytics that combines data from websites and apps. From 1 July 2023, it will replace the current version of GA (Universal Analytics) so it's important that you migrate your data now to avoid any loss.
Let's explore the key changes of GA4 that sets it apart from previous versions and how to successfully migrate your data before it's too late.
GA4 in context
GA4 is the fourth version of Google Analytics. The previous three versions evolved as follows:
GA1: Classic Google Analytics which uses the ga.js JavaScript library
GA2: Universal Analytics (UA) which uses the analytics.js JavaScript library
GA3: also Universal Analytics (UA) but uses the gtag.js JavaScript library
The first three GA versions made it more difficult to track data from websites and apps using one single property – separate ones were used for both. GA4 now has a property known as App+Web that allows developers to integrate mobile app and website usage data into a single GA property.
Every Universal Analytics (UA) property can be upgraded to GA4. This means a new Analytics property is created for collecting new data that won't affect your existing GA account. Going forward, new Google Analytics accounts will be GA4 and previous versions will be phased out.
GA Universal vs GA4: key changes
Universal Analytics gathers and reports on data from each user session, meaning interactions are siloed according to a timeframe. GA4 instead uses a flexible model based on events that provide more accurate reporting.
With each user interaction, more information is passed through GA (user location, purchase value, etc.), which is passed into Google Analytics as a standalone event, meaning it is not contained within a session, like with UA.
GA4 allows you to send 25 extra event parameters with each event sent which is 6 times greater than what UA allows. Even more impressive, you can send a maximum of 500 distinct events to GA4, providing you with a far greater dataset to monitor your engagement.
Advantages of GA4
Today's modern user has access to multiple channels to engage with your business's website and apps. GA4 allows you to track all traffic sources from your mobile app and website in one place without the need to purchase extra products (like App+Web).
GA4's new interface is an improvement from previous versions, showing all data and reports in one easy-to-find place.
Below is a summary of the key improvements of GA4:
Improved data model: GA4's improved data model allows for new report creation methods and analysis while presenting more reliable data.
Analysis: GA4 has a new reporting section that can process advanced analysis and create specific funnels according to any event of your choice.
Predictive metrics: GA4's detailed and more advanced collection and reporting functionality created drastically improved metrics to predict user behaviour, including revenue probability, purchase probability, and churn probability.
Key differences between GA3 and GA4
The differences between GA3 and GA4 are rather detailed and technical so we have summarised the most important ones below. You can view the comprehensive list of specific differences here.
View and data streams setup
GA historically encouraged a minimum of three views: unfiltered view (raw and unfiltered data), test view (filter, goals, configuration), and master view (filter, goals, and other configurations tested in test view). GA allows for the creation of additional views to view your app and web tracking separately. Alternatively, GA4 doesn't allow for more views but you can create data streams for your web and apps.
Events setup and tracking
GA3 events follow the category-action-label-value schema. GA4 instead provides a more flexible event tracking setup which captures the four categories of events: automatically collected events, enhancement measurement events, recommended events, and custom events.
Unlike GA3, a GA4 property has the built-in enhanced measurement feature which creates automatic tracking for certain events without the need for extra coding/tagging. These events are scroll tracking, exit tracking, site search tracking, video tracking, and file download tracking.
User and event data retention
The user and event data retention feature allows you to set a time frame for GA to store and retain user-specific data for an inactive website before deleting it. GA3 has 5 timeframe options (14 months – do not automatically expire). GA4 only has 2 timeframe options: 2 months or 14 months.
E-commerce tracking
It is important to note that GA4 isn't yet considered a complete replacement for the GA3 property as it currently lacks comprehensive e-commerce reporting and attribution modelling features. So, try to keep your GA3 tracking for as long as possible.
The advantages of migrating now
By 1 July 2023, everyone will be forced to switch over to GA4. But despite the deadline being a year away, it is highly advantageous to migrate now. Here's why:
GA4 will only collect data from the time you set up your account and it will not import your previous data. So, the sooner you migrate the more data you will have.
By switching to GA4 now, you can collect both sets of data (GA3 and GA4) for a year and give yourself the chance to compare the analyses for year-over-year data. You don't want to lose any important reference data.
Giving yourself a year ahead of others will allow your Machine Learning (ML) software to train more and help narrow the gaps in visitor data. The sooner your ML tools gather data, the more accurate the algorithm will be.
Early adoption will allow you to take advantage of the enhanced data sooner. As GA4 is the future of analytics, it is a good idea to get comfortable with the changes to ensure everything is set up correctly now rather than scrambling when the deadline approaches. Why wait a year when you can enjoy the benefits of better data now? It is always better to act rather than react.
How to migrate to GA4
Start off by setting up your GA4 account together with your existing GA accounts. This allows you to collect data in GA4 without losing any data held in your current GA accounts. From there, you are able to set up a GA4 property if you have a website and/or app.
Take a look at Google's first-hand guide on how to make the switch to GA4.
Things to look out for
As migrating to GA4 can be a rather technical exercise with a few legacy systems and new systems needing to communicate, some teething issues are likely to arise. Some functions and features have changed from GU, so it is a good idea to set aside a fair amount of time for the migration process to allow for smooth and incremental change that is accurate.
As GA4 is relatively new, there isn't as much available information yet to assist early adopters comprehensively. However, in a year this will certainly improve.
Need help migrating?
We help global teams drive their digital transformation. Get in touch with us to see how we can help power your business's migration to GA4.
David Roman