Rufus Franck talks about making the professional services industry more transparent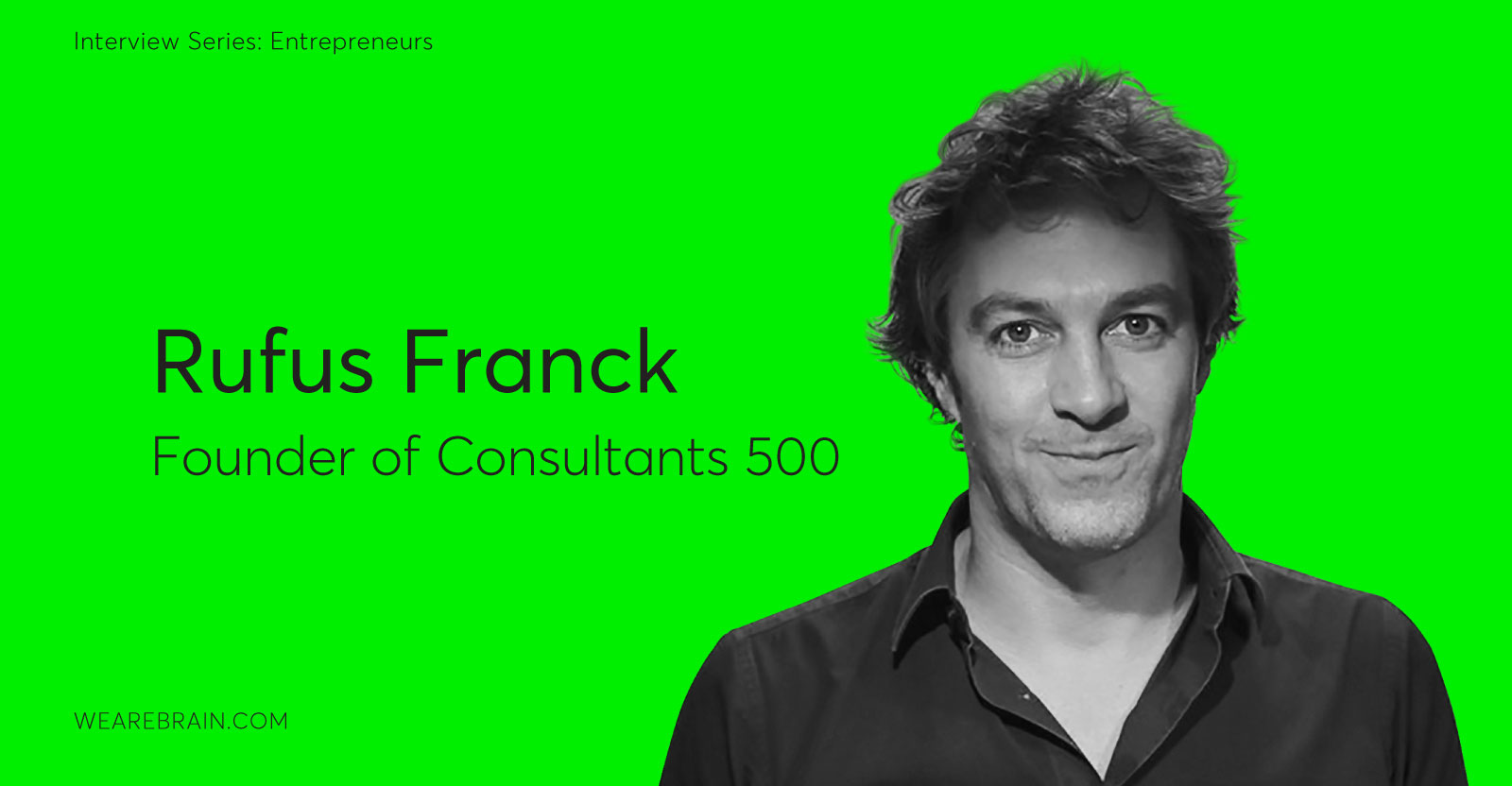 At WeAreBrain we're all about entrepreneurship and innovative thinking on a global scale. That's why we love having the opportunity to sit down and chat with leading entrepreneurs and startup gurus, to pick their brain and find out more about what it takes to build a business from the ground up.
This week we spoke to Rufus Franck, founder and owner of Consultants 500, a niche job board & market place for the professional services sector.  Here's what he had to say:
Q: What's your background?
I'm a tax lawyer by profession. I had a successful career working on the advisory side with large corporations, but at some point, I felt the need to have more freedom in my life. So I started freelancing, in the same line of business. That was 10 years ago. A few years later I came up with the idea for the Consultants 500 platform.
Q: Tell us more about that, when and how did you get the idea for Consultants 500?
At the time I was working on a big project with an oil commodity trading firm that lasted a couple of years. Their operations were spread across the world, which meant that I had to look for advisors locally. This proved to be incredibly difficult to achieve. And so the seed for Consultants 500 was planted! 
It took a while to get the business started, and I had a few "chicken or the egg" issues. Without any profiles, you have no visitors and without any visitors, nobody wants to create a professional services profile. For these types of platforms to be successful, you first need to have a lot of people signed up. But that is quite challenging when you start from scratch and don't have limitless marketing funds. It eventually took a year to solve this: we started with email marketing campaigns, and nowadays focus more on SEO and SEA.
Q: What industry are you trying to improve with this new business?
We focus on the professional services sector, in the most common domains: lawyers, tax advisors, marketing professionals, web developers. We see a lot of platforms that help you compare reviews and prices for various products, such as books or electronic devices, but that is not the case in the professional services sector where platforms usually focus on freelance work only. We want to close that gap and make it easier for someone who is, let's say, looking to work with a small local legal firm.
Q: What would you say is your competitive advantage and what are you doing differently than the competition?
I don't see us having direct competitors at the moment. There are a lot of platforms that focus on freelance work, like Fiverr, but none really on the professional services sector itself, thus outside the freelancers environment.
Q: What is your vision for Consultants 500 in the future?
We are already in the process of evolving our platform. Right now the team is working on the implementation of a job board. This means that users will be able to look for jobs in the professional services sector too, rather than just professional service providers. The next step will then be to introduce a functionality where users will be able to look for and purchase certain types of standardized professional services online, like a legal document or a standard email marketing campaign for example. 
Our goal isn't to become a huge global company. In my opinion, the bigger you grow, the less independent you become. So, we're looking to build a small team to generate enough revenue in order to further optimize the platform and to be living off it and to retain that independence. 
Q: What things took you by surprise throughout the process of bringing your business to life? What have been your key learnings? And what mistakes did you make?
As many entrepreneurs before me have experienced, it was a lot tougher than I expected. We didn't foresee our initial challenge, and that has been a long mountain to climb. The biggest mistake I made was without a doubt to ignore the MVP step. We charged right ahead and found ourselves some years down the line evolving the offering so it matches market expectations. Users don't want to pay to be featured on a platform, but they are willing to pay for other services. We should have taken the time at the start to do that research, and then build from there. 
Q: What is the one piece of advice you'd give to other budding entrepreneurs?
I have a few! I'd recommend new entrepreneurs to stay focused, to figure out what will bring revenue and build from it, keeping that idea as simple as possible. But most importantly, they should listen to their heart. You get a lot of advice from your network when you start up, but whatever you do, it needs to sit right and stay true to yourself.
Thank you for the interesting conversation, Rufus! We appreciate your candid and honest approach to entrepreneurship and we are certain that all budding entrepreneurs reading this have learned a great deal from your experience.
Paula Ferrai