Women in Tech: Meet Denise van Gorp
Contributor
Elvire Jaspers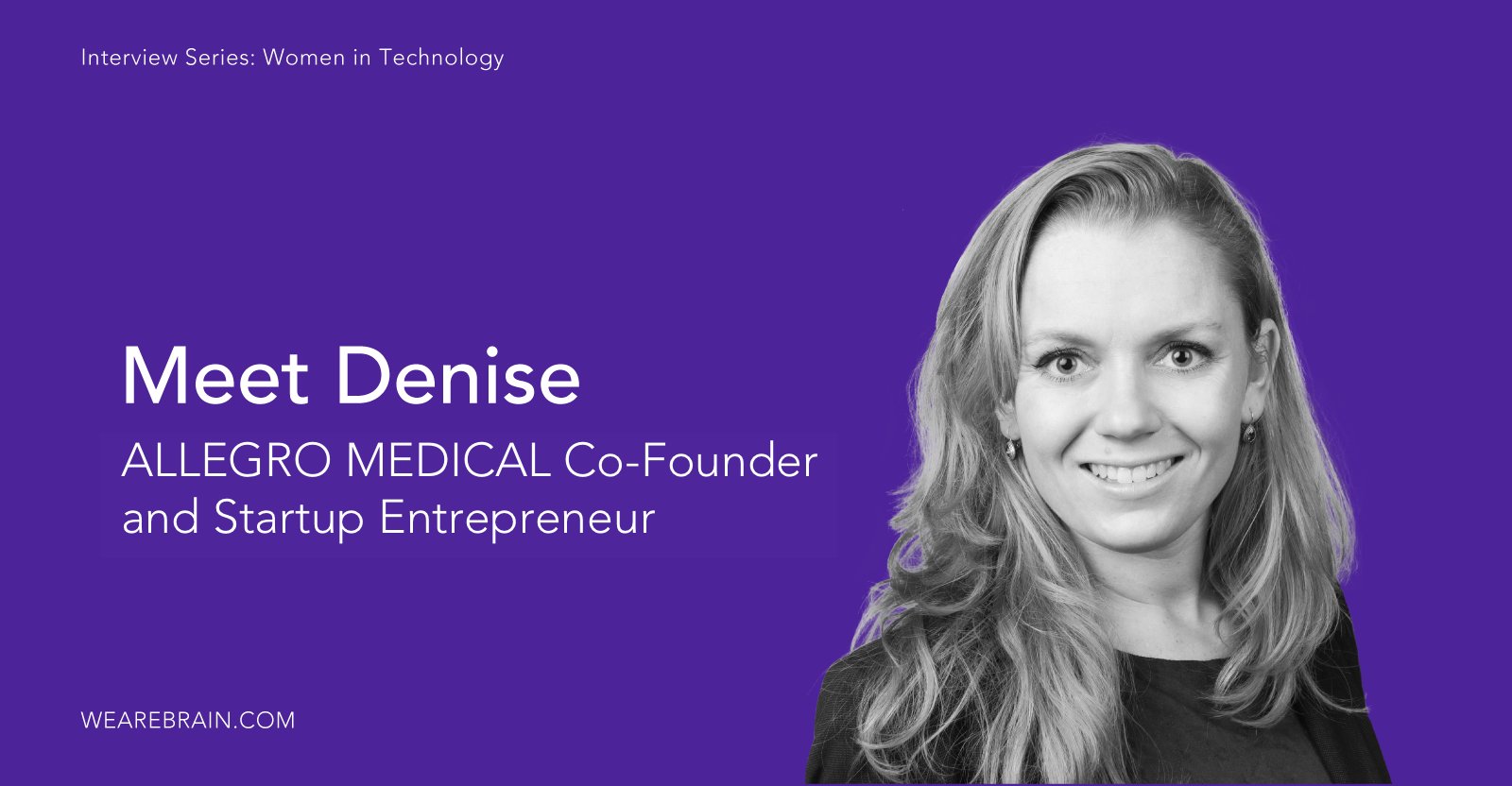 Denise van Gorp is the co-founder and director of ALLEGRO MEDICAL a project management and consultancy business catered to the healthcare sector. ALLEGRO MEDICAL is based in Amsterdam and they assist healthcare organisations develop and implement crucial strategies and complex change management systems through innovative technology. Denise herself fulfils the role of project manager and is involved in multiple innovation projects in various hospitals.
We sat down to have a chat with Denise to find out a little more about her story and what it means to be a leading woman in tech. Here's what she had to say:
Q: Thank you so much for taking part in this Women in Tech interview series with WeAreBrain. We would like to highlight the amazing work you are doing, but also get your views and potential tips for women in technology. First off, what drew you to the tech space in the first place?
Technology is the way in which we both understand and create the future, so I felt it was crucial for me to get involved in its early stages in order to understand the space better for future projects. At Allegro Medical we do project management and consultancy for healthcare organisations, which means that we help hospitals and other types of healthcare organisations in their transition into new ways of delivering healthcare. Technology is one of the main drivers for healthcare innovation.
Q: What challenges have you faced being a woman in a world traditionally led by men?
In my experience, I have found that this is not such a large problem in the healthcare sector. A lot of the functions are fulfilled by women. However, being a woman is a big plus because change management and making connections with people is very important in this branch. Hospitals are very complex organisations with a lot of people with different interests, and quite often a woman's approach when navigating through this is favoured.
Q: Do you feel that you are taken less seriously than your counterparts, and how do you deal with it?
No, I do not feel that at all really. In my personal experience the people who I work with, my colleagues and clients, do not place so much importance on my gender but rather my abilities and ways of working. If I perform well it is not due primarily to the fact that I am a woman but rather because I am good at what I do. The same if I underperform — it is not because of my gender but because of my capabilities at that particular point in time.
Q: Where do you get support from in your everyday work life (other women, your company)?
My colleagues show me such incredible support and guidance, and so do the employees of my clients and the people I get to work with. I think it is important to be supported by your colleagues and business partners to create an environment of community where we all have a vested interest in the success of each other's work. The better we perform individually the better our work becomes, which makes for satisfied clients and continuous projects.
Q: What do you think the future holds for young girls who are interested in technology?
 I can't speak for other industries, but in tech and healthcare it is important to build bridges between technology and daily business in hospitals. I think that women are better in this area than men because of their skills and approach. I feel that more and more young women are getting into the tech scene and we will soon start seeing many more females playing important roles in tech innovation in the future.
Q: What is the one piece of advice you would give to a woman who wants to start a career in tech?
Make sure you understand what the business question is and how your technology can add value. Rely on your abilities and work ethic to get you where you want to go.
Q: What has been your greatest success?
Starting my own company based on my own values. Allegro Medical has been a labour of love for me and my colleagues and I am so proud and grateful that we have achieved the successes we have in such a short space of time. We are looking bravely and excitedly to the future.
Q: How do you innovate in this business?
We set out to study various technological opportunities and innovation used in other businesses and we try to translate this to the healthcare sector. In today's digital revolution we are starting to rethink and recalibrate our approach to businesses with the use of technology and healthcare will be completely revolutionised by it in the coming years. We are excited to see where it leads.
It was an absolute pleasure talking to Denise and finding out more about her career and her position as a leading woman in tech. The future is looking bright for young women in tech and we can't wait to see how the techies of tomorrow will innovate a new digital landscape. Onwards and upwards, ladies!
Elvire Jaspers