Meet Martijn Hinfelaar, our creative problem solver
Contributor
Elvire Jaspers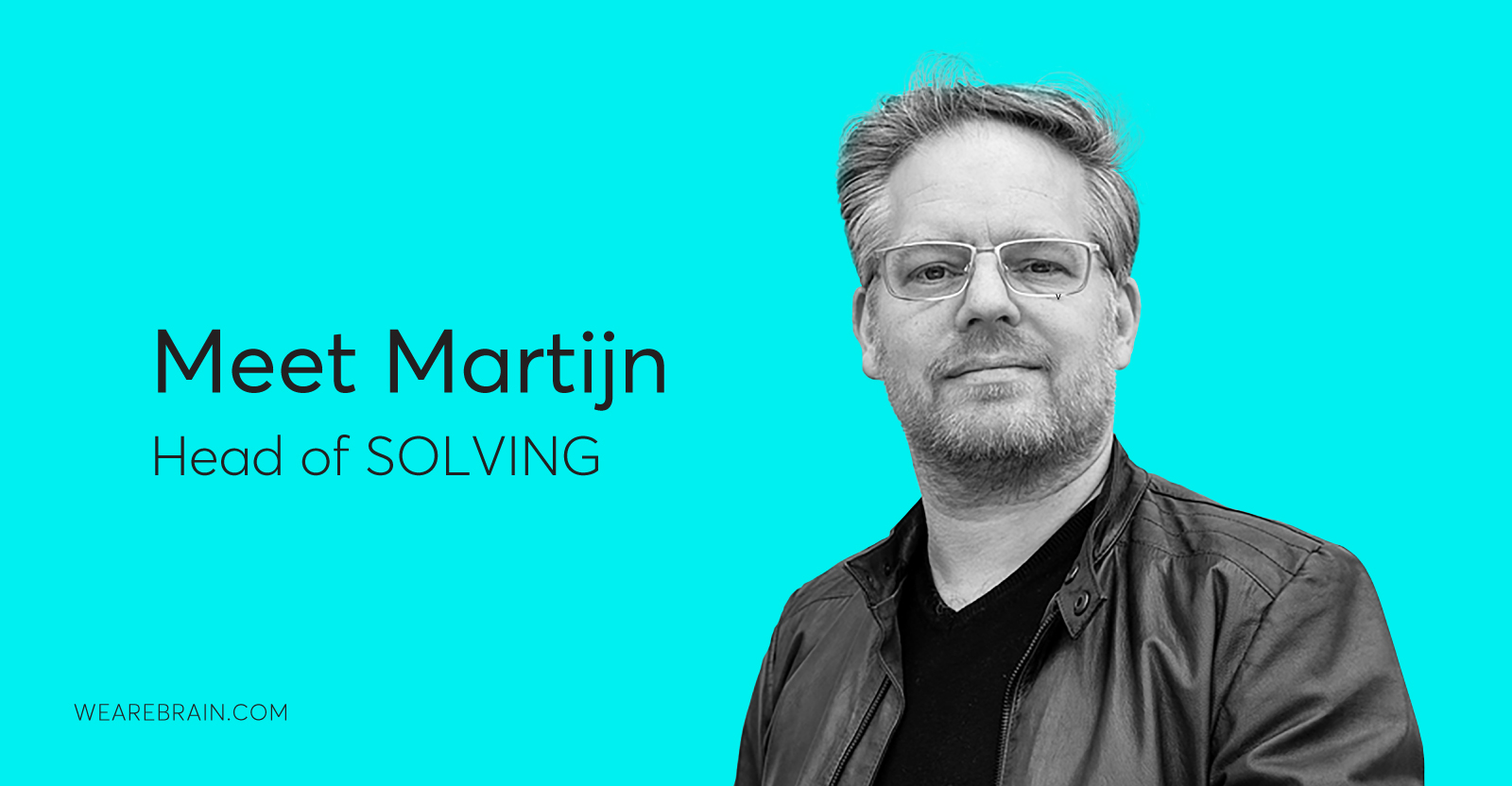 We are super delighted to introduce you to another one of our enormously talented Brainiacs, Martijn Hinfelaar.
Martijn is not only a highly regarded member of the Brainiac family, he is also an integral cog in the Brainiac creative machine. Martijn is the Creative Director (or "old designer" as he likes to joke) and founder of Solving, the strategic design label of WeAreBrain.
We couldn't be more excited to have such a talented and experienced creative at the helm of Solving. After cutting his teeth learning crucial design principles at an 'old school' design academy (where he learned to design 'real' products like chairs, bags, jewellery, etc.), Martijn has since accrued over 20+ years of experience working for various agencies and industries.
"I love to create things and tell engaging stories through design. With Solving, I am able to leverage an incredible pool of creatives and digital wizards to give our clients an advantage over the competition. What I love about this Brainiac collective is that it's multinational by choice, diverse by default, and there are a bunch of smart people walking around."
When Martijn isn't being hella creative in the office, you can find him being hella creative at home. He enjoys drawing cartoons, or 'graphic novels' if he's feeling snobby, and teasing his kids with mean little self-written songs performed on his ukelele. Speaking of kids, Martijn is an avid family man and devoted father to his three children, Hannah, Sarah, and Nathan, whom he cannot live without.
If given the chance to be anyone else for a day, Martijn would choose to be Foo Fighters' frontman Dave Grohl playing the song Everlong live at Wembley Stadium for the Live Earth 2007 event. "Not that I'm a huge fan or anything, but if you are ever in doubt over the magic of music (or what one man and a guitar can do) just watch this performance".
As if all his years of experience are not enough to quench his creative tendencies, Martijn hopes to learn how to play flamenco guitar someday. Who knows, maybe at the next Live Earth concert we'll see Martijn rock out on the flamenco guitar with Dave Grohl for a Spanish-style rendition of Everlong or Siempre.
Elvire Jaspers