Meet Michel, CEO and founder of clevergig
Hot topics 🔥
Entrepreneurship
Team & Company News
Contributor
Elvire Jaspers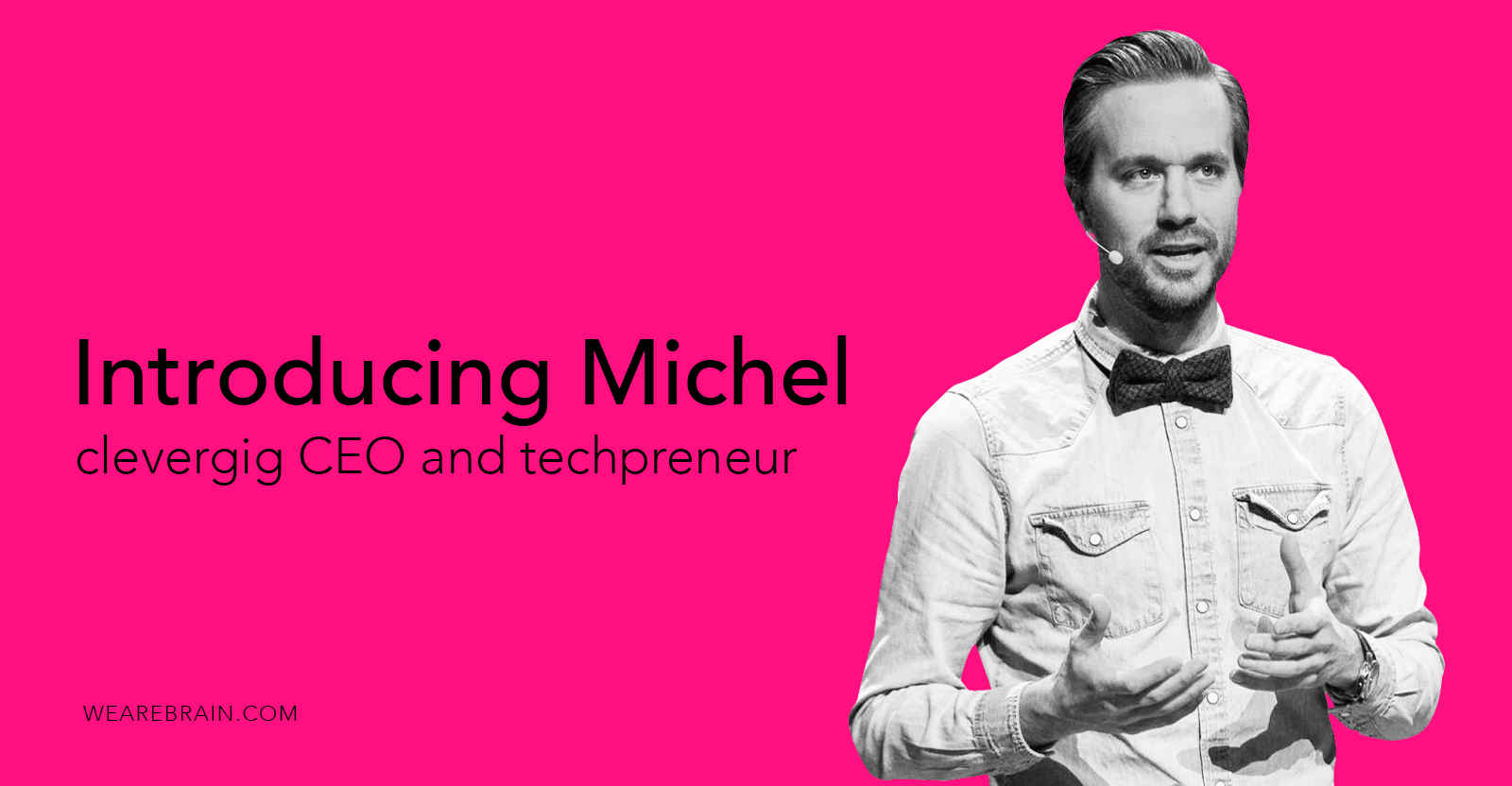 clevergig is a SaaS workforce management tool focussed on the gig economy, connecting people to work on-demand. It also helps temp agencies easily place workers with their clients.
Michel's interest in the startup scene stemmed primarily from his unrelenting need to have autonomy on his work life by being able to make his own decisions and work on what he wants to work on, not what he has to. His father is a serial entrepreneur and so he was raised on these ideals which propelled him to follow this path of work independance. "I absolutely dislike authority and love challenging the status quo. So companies that disrupt have always grabbed my attention. I wanted to do that too. Finally, I just love the whole journey of figuring out if something new will work and trying to build it into a business" he says.
Like most successful startups, you need a helping hand at the formative stages to get your business off the ground. And about 3 years ago, this is where WeAreBrain came in. "WeAreBrain has been instrumental to the startup and growth phase of clevergig. They were a co-founder and provided the right development skills to build our software" he says. "The extensive knowledge and experience of the entire team, and the ability of colleagues (from outside our team) to pitch in when some knowledge was missing regarding the coding and development side has been a game changer for us. Their hands on mentality and ability to just get things done is so beneficial for startups like ours" he says.
We got the opportunity to have a chat with Michel to find out more about what led him to create clevergig and how he sees it fit into the future of the gig economy. Here's what he had to say.
Q: Origin stories are always great — when and how did you get the idea for clevergig?
I was a wantrepreneur for a long time. Having the wish/desire to become an entrepreneur, but not having the guts to follow through. 4 years ago, on a beach in Thailand I decided to just do it. Back then I didn't know what I wanted to do yet. I did know that I didn't want to be the product (e.g. freelance), but rather to build a business that could someday operate without me. Why this idea? I love how the labor market is changing. How everything is becoming more flexible and where people themselves can decide their working hours and their clients. And I am a big fan of technology and I'm eager to see how this will disrupt the entire recruitment process and how freelancers will operate in the near future. Smart algorithms will facilitate much quicker matching of the right worker with the right job or task. This will further democratise labour and allow companies to have highly distributed workforces.
Q: How many people did you start with and how many people do you have on the team now?
In the very beginning there was a team of 4 developers and myself running the business side of things. Over time the team has expanded and there are 8 of us now.
Q: What is your vision for clevergig in the future?
We foresee a future where clevergig enables both small companies and individual workers to quickly and easily be matched for ad hoc shifts and projects. All the operational hassle and manual tasks are removed. And staffing workflows are thoroughly automated with our smart software.
Q: What would you say is your competitive advantage and why can't it be copied?
Simplicity. We aim to keep our product as simple and intuitive as we can. This sounds logical and very easy to copy. However, the tendency of most software companies is to add more features and buttons, not less. UX/UI is key for us. Of course, we have work to do here, but our product is pretty top-notch in the niche we operate in. For it all to work, we have to be — and are — obsessed with customers. Their feedback and input really help us to improve. But there is a fine line, as you can't please everyone. Saying no can be the route to a better and more simple product sometimes.
Q: Have you participated in any funding and investment programmes? If yes, which? And Would you recommend going this route to other entrepreneurs?
Startupbootcamp. We also raised investments with angel investors But it depends on the phase you are in and the experience you have. Accelerator programmes are great for early-stage companies that are still trying to find product/market-fit. This kind of program can really speed that process up and connect you to relevant customers and suppliers.
Q: What things took you by surprise throughout the process of bringing your business to life?
The work never stops. There are always things to do and even when I am not in the office I think about work most of the day. Strangely enough, the work does not feel like work. I mean, work often has a negative connotation, but now that I am able to do what I want and have that autonomy. The work is something I love doing and it does not feel like work as it did when I worked for an employer.
Q: What mistakes did you make?
Timing and when to accelerate. I think we went into building a product we 'thought' that people needed too quickly. We did too little customer development research and starting building too fast, while, instead, we should have gone live with a super simple version of the product and tested the waters first. That was my mistake. We also started hiring too fast and expanding our sales and marketing operations while we were still finding our product/market-fit. In hindsight it would have been better to first get the product completely right with a small and nimble team and then aggressively scale up the marketing/sales side.
Q: What is the one piece of advice you'd give to other budding entrepreneurs?
Nobody has all the answers, and neither do you. Stay humble, put your head down and get the work done. Stay true to yourself, be authentic and trust your gut.
Michel's drive and passion for his work is a huge driving force behind the success of clevergig. We are very proud to be a part of this innovative approach to the labour market. Our aim is to see this grow and be a benchmark for the way things operate in the future of the gig economy.
Elvire Jaspers