Meet Max, the man on top of bots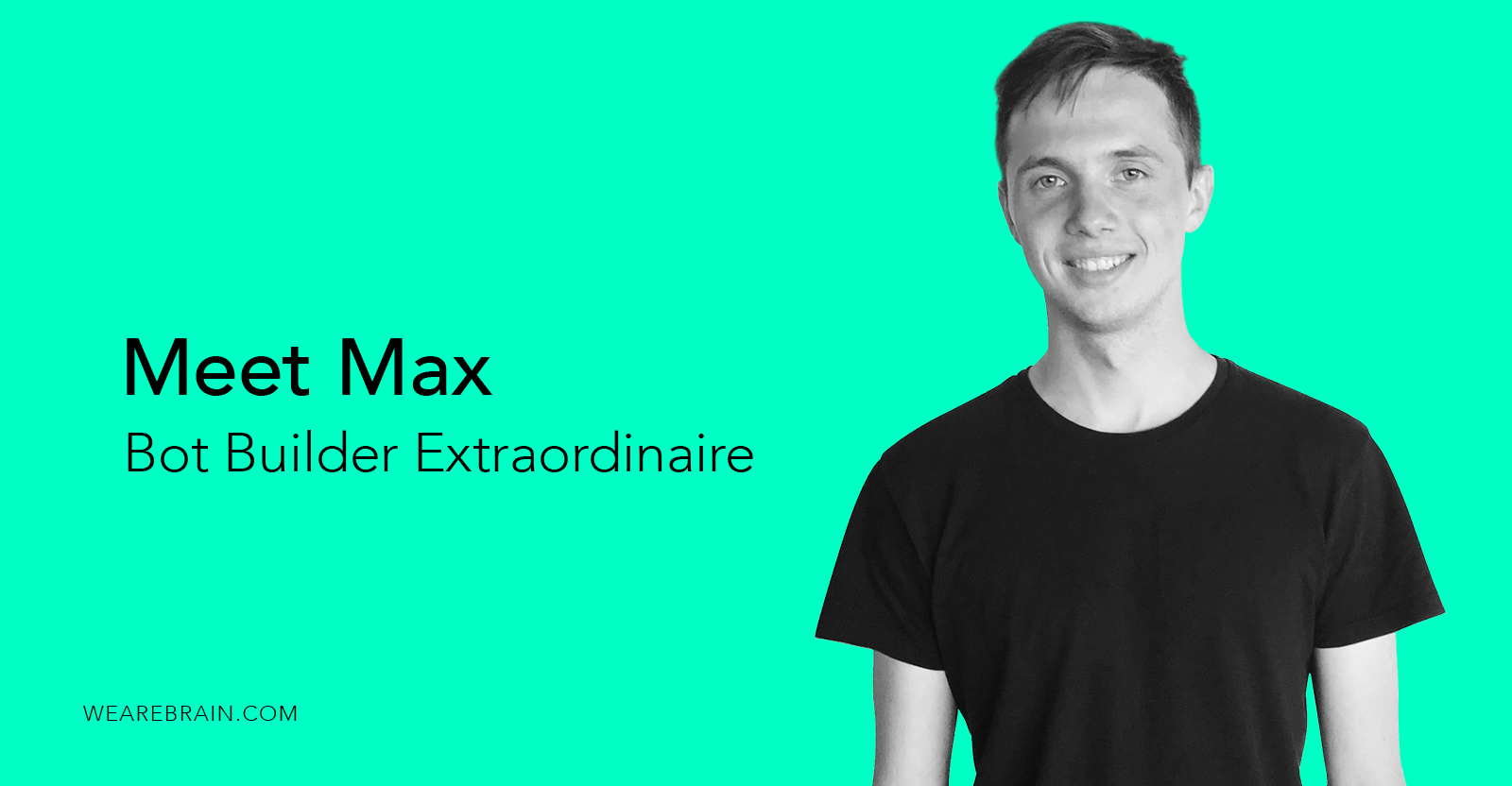 Max recently joined the ranks of our very talented tech team as a back end and bot developer. Max will be lending his hand in assisting us with our continued drive to create the best, most innovative and functional products for our clients. As you may have seen from our previous team profiles, we only hire the best people to join our team to help us create magic with every endeavour. And Max is no different. Still relatively fresh in the working arena, Max holds a Master's degree in Software Engineering and has gained some valuable working experience at previous companies before joining the WeAreBrain team.
Max seemed destined to join our team as he takes enormous pride in his work and shares our company's vision and ethos. "I like to think globally and extraordinarily in my search for finding the perfect solution to problems" he says. That's exactly the type of tenacity we look for in all our team members, especially our developers. And because of this Max has fitted into the fold very easily. "Most of all I really like the friendly team and the professionalism of the people who surround me here" he says. Ah shucks, Max. you're making us blush!
As a good developer should, Max is constantly pushing his limits and testing his professional resolve. He loves to read up about the latest tech trends and movements to stay on top of his game and improve the caliber of his work and output. "I have a favorite blog/channel and it's called 'Academind' by Maximilian Schwarzmüller. He explains complex things in simple words that anyone can understand and apply the knowledge gained".
When Max isn't being the best back end and bot developer he can be, he enjoys reading good books and travelling to new and exciting places. "If I had to choose three things I wouldn't be able to live without, it would have to be books, exploring new places and of course my laptop" he says.
Max has a very clear and defined sense of self. We find that people who have this virtue inherent in them tend to execute their projects with conviction and substance. The most interesting people we come across have this character attribute and it is always great surrounding yourself and your team with these individuals as their ways are infectious. When asked if he could be anyone else for a day who he would choose, Max responded "On a serious note, I'd definitely be me, but a better me. I know my flaws, I know where I need to improve and if my better version can eliminate those negative points then why not be me again? I am very happy with who I am and what I am, and I wouldn't want to be anyone else" he says. Inspiring stuff, Max!
We are very happy to welcome Max to the team and we look forward to the impact he will no doubt be planning to make with us.
Paula Ferrai